https://www.discogs.com/Count-Viglione-Band-Cat-In-The-Dark/release/10050092
1.GO ONE
2)Dreams in Reverse
3)Hide Inside Your Dreams
4)Two Spaces to You
5)Cat in the Dark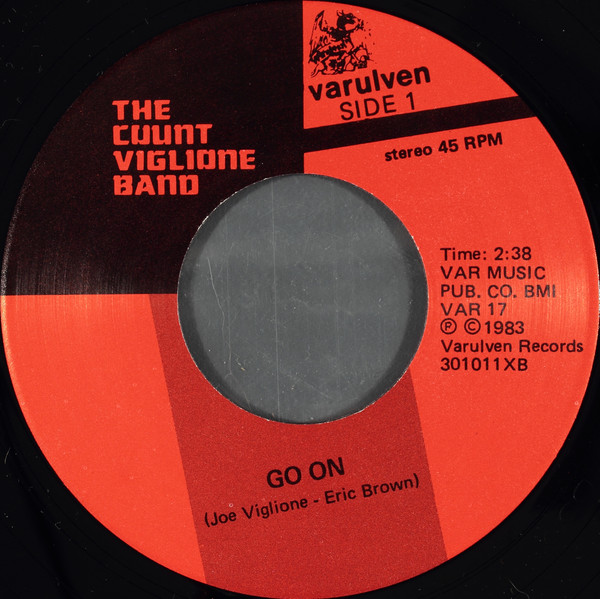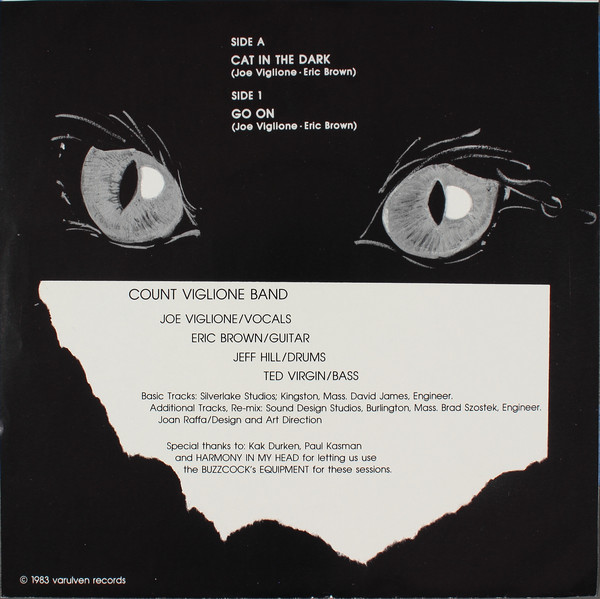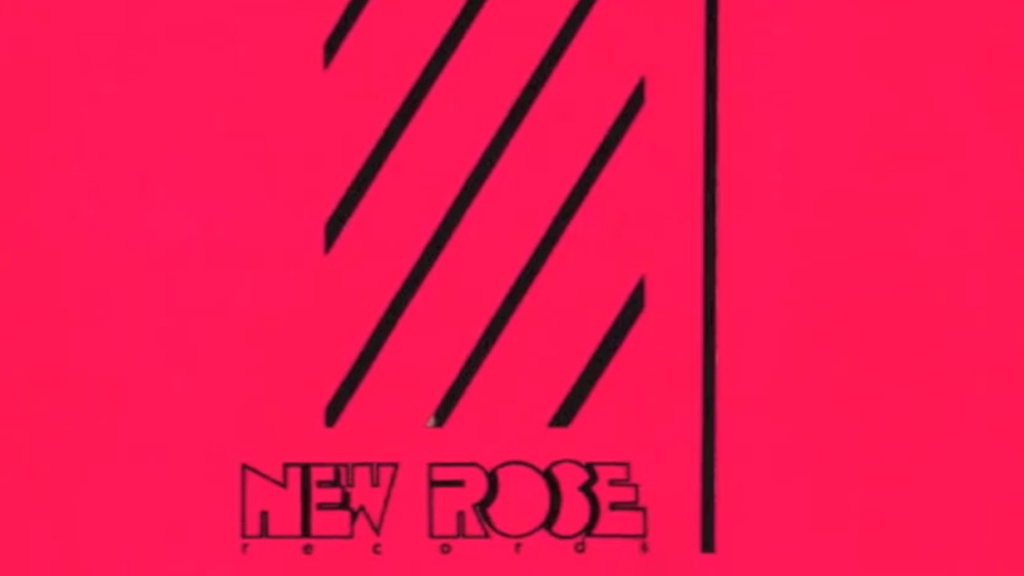 The Night Will Be Insane from New Rose Anthology Eric Brown Guitar, Jeff Hill Drums Teddy Rodden bass Joe Viglione vocals – a rearrangement of Love and Flame's Tonight Will Be Insane
Song of the Day #2 Sept 5, 2023 THE NIGHT WILL BE INSANE, a rearrangement of the Love and Flame song TONIGHT WILL BE INSANE, CVB Band 1982.. .
https://youtu.be/xDmnqwrfgRM?list=TLPQMDQwOTIwMjN21-xSqgHN-A Eric Brown on guitar, Joe Viglione on vocals, Jeff Hill on drums, Teddy Rodden on bass… from the CAT IN THE DARK sessions and New Rose Records compilation New Rose 17
https://www.discogs.com/release/1235323-Various-New-Rose-Records along with the Outcasts, Johnny Thunders, Willie Loco Alexander and others. Compositions and Copyrights | JoeViglione.com
Lyrics, Joe Viglione (ASCAP)
Var Music Publishing, BMICo-writer Eric Brown
https://youtu.be/xDmnqwrfgRM?list=TLPQMDQwOTIwMjN21-xSqgHN-A
I got a funny feeling, something about today
Not in your words, not in the things you say
I got a funny feeling what it's dealing has got me at bay
Perhaps an hour or so the night is going to be insane
tonight will be insane
tonight will be insane
tonight will be insanet
onight will be in jane
tonight will be insane
Crrrrumbling columns falling one by one
IF THERE'S a way into your heart then surely I will run
once again my soul is under such a strain
an hour or so the night is gonna be insane
tonight will be insane
tonight will be insane
tonight will be insane
tonight will be in jane
tonight will be insane
are you distraught?
disembodied?
I'm
I'm
totally
INSAAAAAAAANNNNNNNNE
INSAAAAAAAANNNNNNNNE
tonight will be
insane
tonight will be insane
tonight will be insane
tonight will be in SANE
tonight will be insane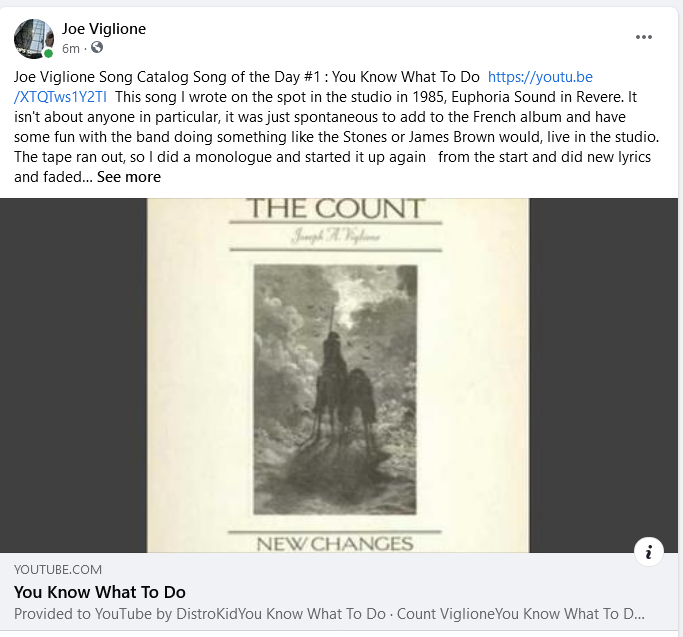 YOU KNOW WHAT TO DO
Joe Viglione Song Catalog Song of the Day #1 : You Know What To Do https://youtu.be/XTQTws1Y2TI This song I wrote on the spot in the studio in 1985, Euphoria Sound in Revere. It isn't about anyone in particular, it was just spontaneous to add to the French album and have some fun with the band doing something like the Stones or James Brown would, live in the studio. The tape ran out, so I did a monologue and started it up again from the start and did new lyrics and faded out. 3 minutes 40 seconds Var Music Publishing BMI, Joe Viglione ASCAP (Copyright C 1985)

When you left without a word / I was wonderin' what occurred?
When You Left Without a Clue / I was wonderin' what to do
You called me within the night / we took it up and we took to flight
Flying solo is no go / I've been wandering to and fro
I got something to tell you
and you, you know just what to do
I got something, something to tell you
And you, you know what to do
(1:34 the tape runs out, so I do a monologue)
"Oh, let me guess, in your confusion today you took a wrong turn to this exit and ended up here? Right? Oh,you've lost my telephone number and you've been real busy? Oh – you wanted to see me tonight? Really? Well, where's your little tramp?" (Tape rolls again at 2:01)
Oh I'm strung out over you
but you know what to do
Oh I need to know right now
Say we are someway somehow
Oh I'm stranded once again
Round in circles from the who knows when?
Waiting on the edge of my life
waiting waiting.,…once again
but I got something something to tell you
now you know what to do
something something i got something i got something to tell you
yeah yeah yeah (fade)
Liner Notes on Discogs https://www.discogs.com/sell/item/1798870135
Interrecords has a copy, 8 of them on eBay as of 9-4-23
https://interrecords.net/the-count-joseph-a-viglione-new-changes-new-rose-records-disc822877n1.html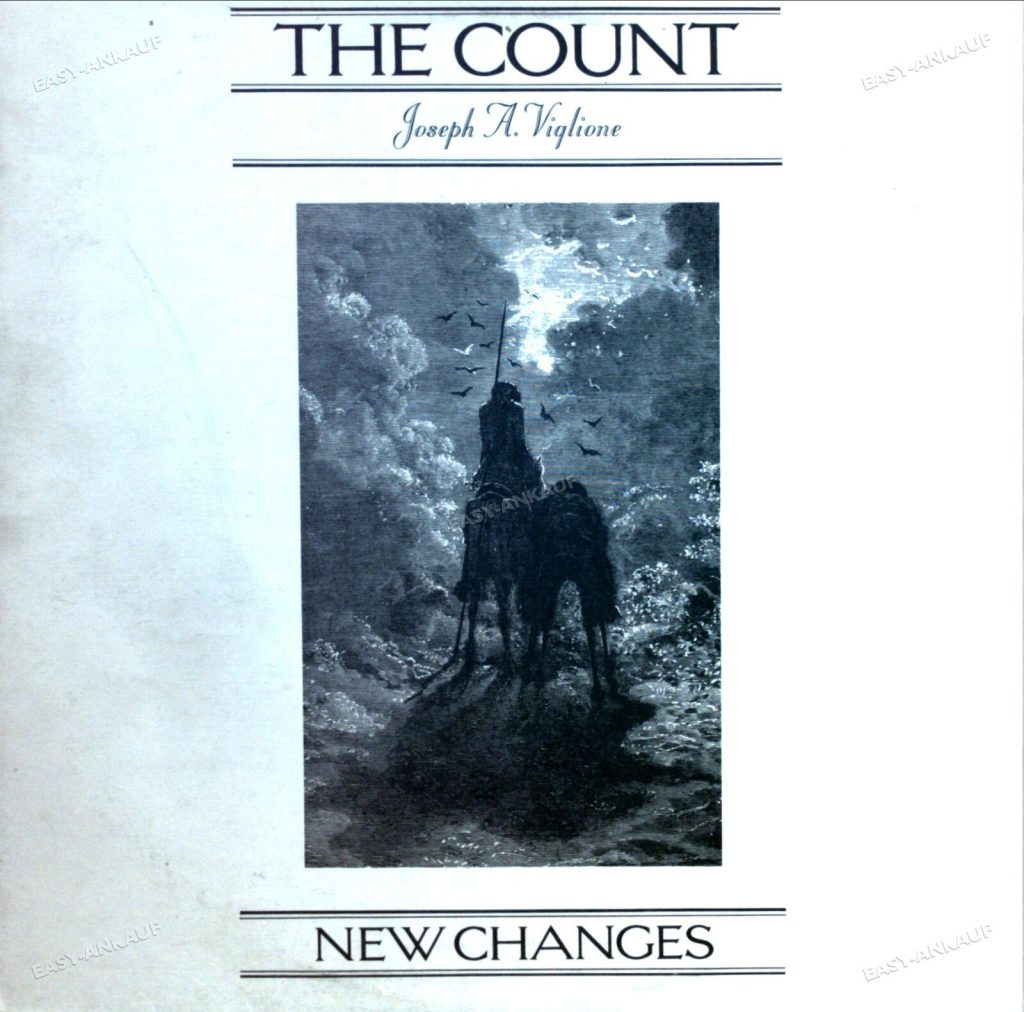 Song: TONIGHT WILL BE INSANE (original version)Writer: Joe Viglione (ASCAP) Var Music Publishing BMI Varulven Records
9/6/23 Song of the Day
Radio, if adding, please tag @joeviglione on X/Twitter
YouTube https://www.youtube.com/watch?v=RKTW7QvEbhM&t=13sMP3 enclosed
"Tonight Will Be Insane" on Spotify: https://distrokid.com/…/countvig…/tonight-will-be-insane (powered by @distrokid) Count Viglione song #51 on @Spotify #joeviglionemedia original from #ElectroAcousticStudios#Boston circa 1979 #DragonCourt @carly501 @GoonrGrrl @BostonGlobeArts @BostonHeraldENT @WBCARadio
Joe Viglione's critically acclaimed music has spanned half a century.
Film and Music producer/stage performer/Rock Historian has "tales to tell."We are unleashing all Varulven Music by Joe Viglione and his assorted bandsfrom over the years online
51 songs on Spotify thus far, a song being added every day!
Original 1979 Lyrics, Electro Acoustic Sessions, Piedmont St., Boston
Oh I got a funny feeling/something about today, hey-eyNot in your voice, Not in the things you sayBut I got a funny feeling and what it's dealing got me at bay
Pardon me, but something chipped away at my brainYou gotta forgive me but I'm going against the grain
If I look dejected, well my soul is under such a strainin my heart I know TONIGHT IS GOING TO BE INSANE

TONIGHT WILL BE INSANE
TONIGHT WILL BE INSANE
TONIGHT WILL BE, TONIGHT WILL BE
TONIGHT WILL BE INSANE
Crumbling columns falling one by one
if there's a way into your heart oh surely I will run

oh once again all my love is dripping down the drain
in just an hour or so I know the night will be insane
TONIGHT WILL BE INSANE
TONIGHT WILL BE INSANE
TONIGHT WILL BE, TONIGHT WILL BE
TONIGHT WILL BE INSANE
i feel distraught disembodied something like/ being caught in a bog
the morning mist may rise and clear, oh honey I'm still here I'm in a fog
since I went crazy I've never had so much fun
http://joeviglione.com/?page_id=1101
ONLINE RETAIL STORES:"The Night Will Be Insane" has been submitted to Amazon, Anghami, Apple Music, MediaNet, Boomplay, Deezer, Instagram/Facebook, Adaptr, Flo, YouTube Music, iHeartRadio, Claro Música, iTunes, Joox, KKBox, Kuack Media, NetEase, Qobuz, Pandora, Saavn, Spotify, Tencent, Tidal, TikTok/TikTok Music/Resso/Luna and Yandex Music (beta)!
"One of Boston's Five Best Bands"
Playboy Magazine, 1978First album artist signed to New Rose Records,critically acclaimed with fans from around the worldposting great comments on YouTube! Legendary Count Viglione