Before I shut down Medford Community Cablevision, Inc. in Medford which was engaged in what Judge Jackson-Thompson alleged could be "malfeasance" two of the reprobates hacked the Wikipedia page on me. Detective J.J. McLean of the Medford Police Department at the time who said to me "You Won, You Won. And the city is better off for it" did not force the two hackers to put the page back up. He said that he would. J.J. Later said to me that he "lies all the time." This is To Serve and Protect? J.J. didn't realize that my interpretation of the law is that he's not supposed to lie to a victim, and J.J. determined that I was the sole victim, just as his fellow officers had determined a decade ago April 2010. They can lie to the perpetrators to get information, but NOT to the victims, according to Joe V's rule of law. Thus I am requesting people out there help me get the Wikipedia Page on Joe Viglione restored.
My name is all over Wikipedia being referenced. Sad that some individuals have nothing better to do but be envious of hard work and honest efforts, and that goes beyond the reprobates to the detective himself.
https://en.wikipedia.org/wiki/Livingston_Taylor
Viglione, Joe. Livingston Taylor: Album Review. AllMusic.com. Retrieved November 20, 2017.
Livingston Taylor – Wikipediaen.wikipedia.org › wiki › Livingston_Taylor
Livingston Taylor (born November 21, 1950) is an American singer-songwriter and folk … Once again, Joe Viglione penned the AllMusic review, stating that "Get Out of Bed" "is a brilliant and exciting slice of pop music" and that "with the …
Reception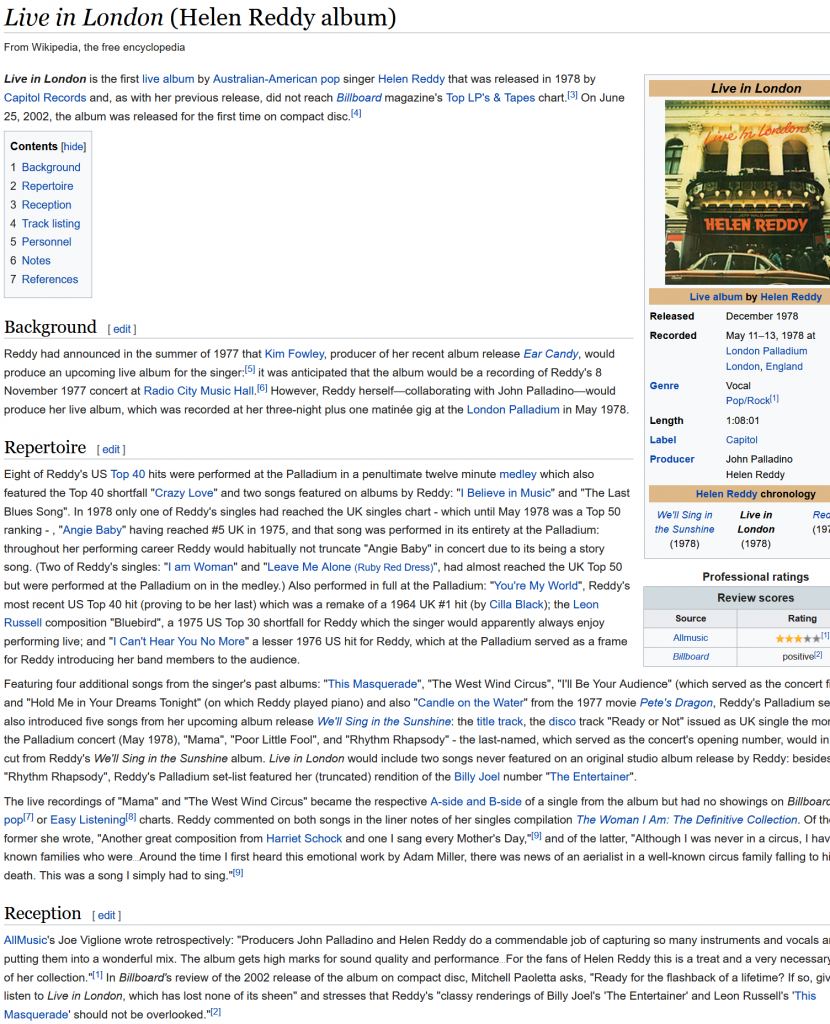 Helen Reddy (album) Wikipediaen.wikibedia.ru › wiki › Helen_Reddy_(album)
HELEN REDDY SECOND ALBUM Helen Reddy is the second studio album by Australian-American pop singer Helen … Joe Viglione of AllMusic retrospectively describes the album as "a pleasant …
Reception[]
Village Voice critic Robert Christgau chose to highlight "a scathing death-of-a-cocksman song that Carole King somehow left off Music ['No Sad Song'], a John Lennon autotherapy that sounds inquisitive instead of foolish ['How?'], and a frolicsome sisterhood ditty that [Reddy] wrote herself ['More Than You Could Take']."[2] Joe Viglione of AllMusic retrospectively describes the album as "a pleasant listening experience, though it was the only one of her early albums not to find representation on her Greatest Hits. Because there was no big hit on the record, it is not as well-known as her other recordings, but it definitely has charm and is an essential part of her collection of music."[1]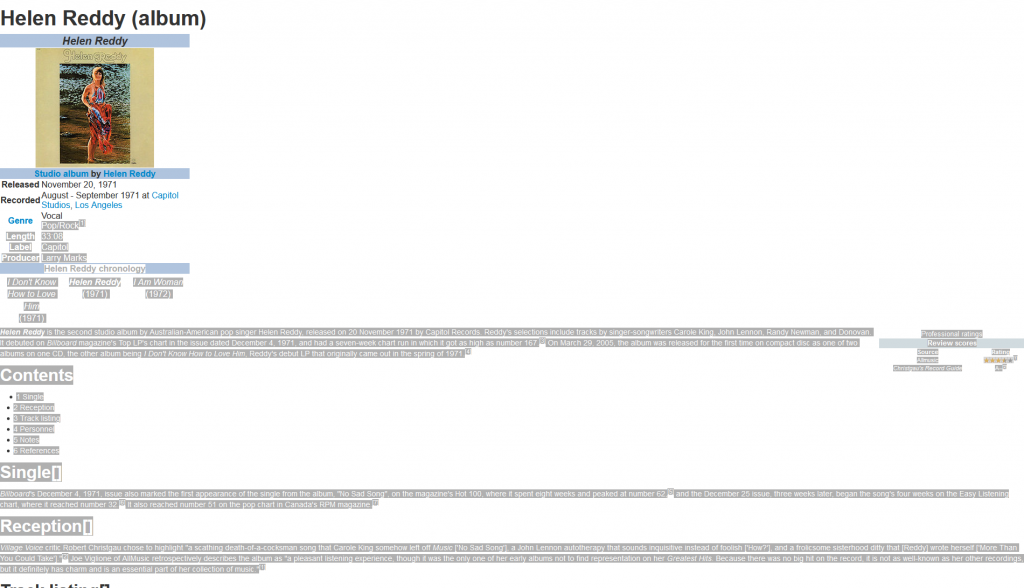 AllMusic's Joe Viglione wrote retrospectively: "Producers John Palladino and Helen Reddy do a commendable job of capturing so many instruments and vocals and putting them into a wonderful mix. The album gets high marks for sound quality and performance…For the fans of Helen Reddy this is a treat and a very necessary part of her collection."[1] In Billboard's review of the 2002 release of the album on compact disc, Mitchell Paoletta asks, "Ready for the flashback of a lifetime? If so, give a listen to Live in London, which has lost none of its sheen" and stresses that Reddy's "classy renderings of Billy Joel's 'The Entertainer' and Leon Russell's 'This Masquerade' should not be overlooked."[2] https://en.wikipedia.org/wiki/Live_in_London_(Helen_Reddy_album)