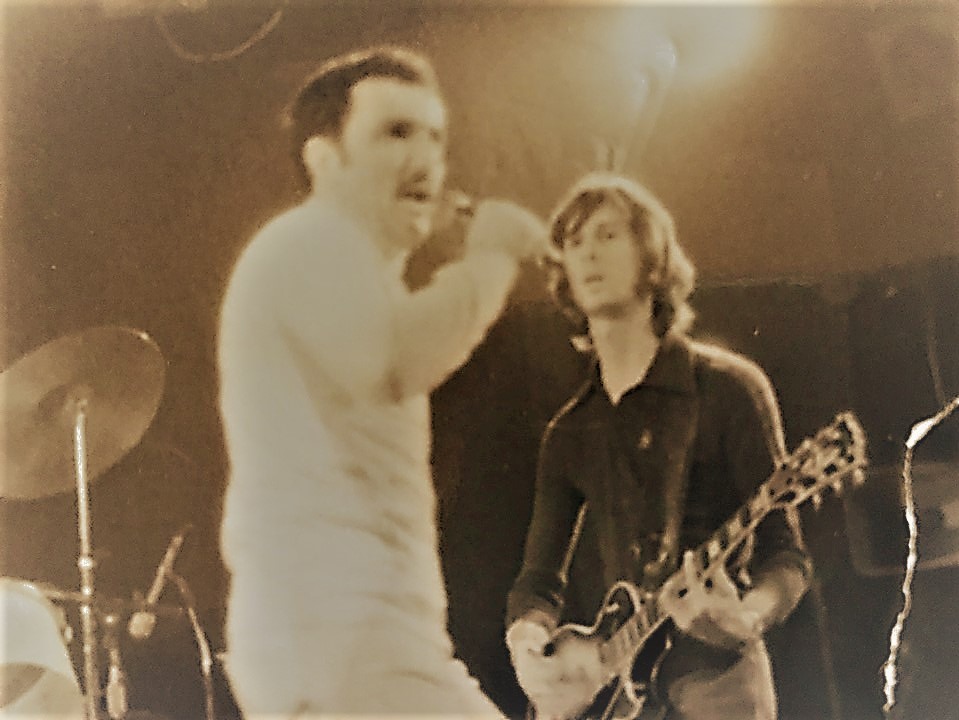 Ed Symkus Interviews Joe Viglione https://ipswich.wickedlocal.com/entertainmentlife/20180826/rat-remembered-boston-musicians-reunite-for-throwback-show-in-hull
Chris Atwood at WATD Interviews Joe Viglione https://www.facebook.com/80sAlternativeRadio/ Post on Christopher's site: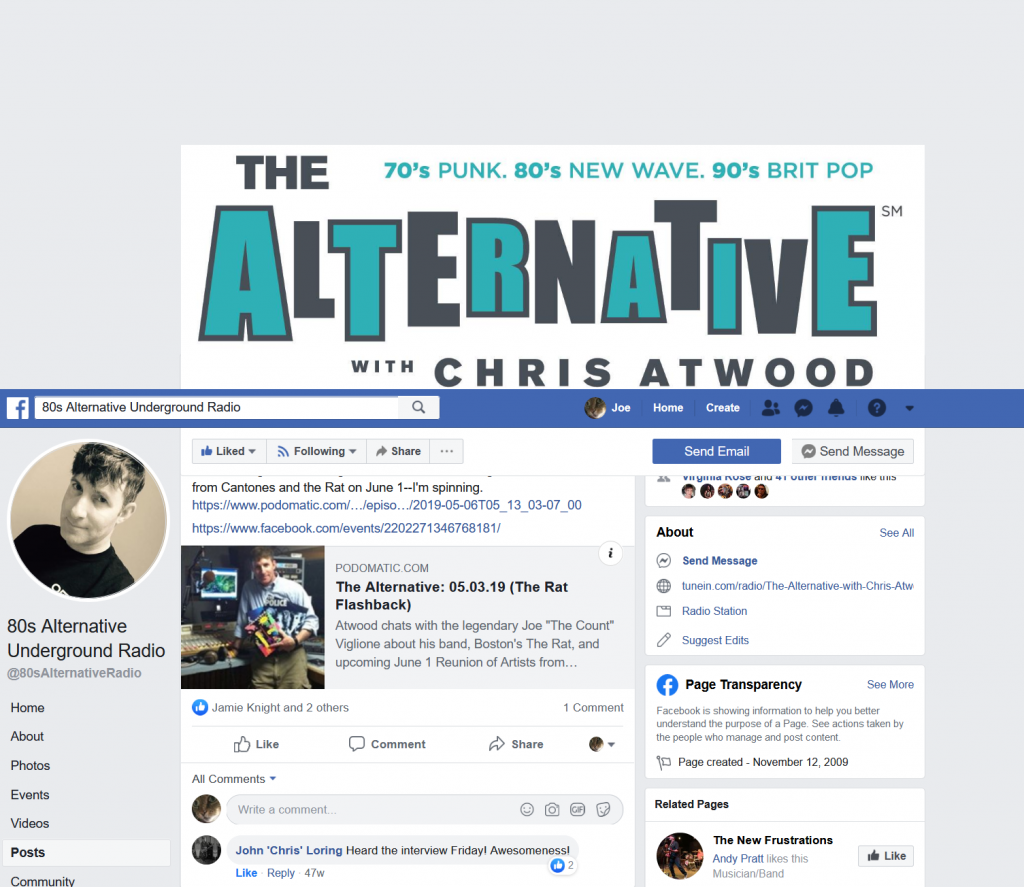 Remember Boston's legendary "The Rat" nightclub in Kenmore Square in the shadow of Fenway Park? Here's a Rat Flashback interview with the legendary Joe "The Count" Viglione who was there are recorded most of the bands who graced the stage. And, learn about the big "Reunion of Artists from Cantones and the Rat on June 1–I'm spinning.
https://www.podomatic.com/…/episo…/2019-05-06T05_13_03-07_00
https://www.facebook.com/events/2202271346768181/
By Ed Symkus/For The Patriot LedgerPosted Aug 26, 2018 at 4:49 AM
https://marshfield.wickedlocal.com/entertainmentlife/20180826/rat-remembered-boston-musicians-reunite-for-throwback-show-in-hull
Joe Viglione has so far racked up more arts-related careers than stage names, but there are plenty of each. The names, due to his longtime fascination with vampires, share a commonality. He's gone by The Count, Count Joe, and Count Viglione. The careers, because his interests go in so many directions, include singer, composer, guitarist, pianist, record producer, fanzine publisher, music and film critic, radio and TV host … the list goes on.
But in recent years, Viglione, a Somerville native, has found time to return to his performing roots. He'll be fronting his current band – perhaps it would be more accurate to call it his current show – Love & Flame as part of the sixth annual Rat Beach Party, running Aug. 30 through Sept. 2, and again on Sept. 7 at the C-Note at Nantasket Beach.
Viglione's set, on Sept. 1, will feature Kenne Highland on guitar, drummer Robin Baltimore, Roberto on bass, John Keegan on saxophone, and vocalist Lady Carolyn. Viglione, who may or may not pick up his Fender Strat and roam around the stage singing and playing on a couple of songs, will likely spend most of the 35-minute set telling stories of his life in rock 'n' roll.
Viglione, 64, recently chatted about some of that history by phone from his home in Malden.
"I started writing poetry when I was 15," he said. "I was an accordion player, and my grandma's piano was in the den, so I got to fool around on it. But my sister was much better at it, so when I was 17, I bought a guitar, and that's when I started setting some of my poems to music."
Looking back on it all these years later, after composing and recording music that's ranged from pop to punk to metal, some of it laidback, some of it hardcore, Viglione said, "I wish I stayed with my initial ideas, which, because I couldn't play like other people, involved making sounds. I should have stayed with the sounds and the whole emerging punk thing. But you get pressure from people who want you to be more traditional, so I started mixing my Lou Reed with Barry Manilow."
There were bands early on. The first, in 1971, was a duo called The Wurtilaks, later there was a trio called Still, still later, a quartet called Aastral Projection.
Always a good self-promoter, Viglione explained, "I spelled it with the double A because I wanted it to be first in the record bins, ahead of Aerosmith."
Music preview
RAT BEACH PARTY
At the C-Note, 159 Nantasket Ave., Hull, from Aug. 30 to Sept. 2, and again on Sept. 7. Joe Viglione plays on Sept. 1 at about 7:15 p.m. $5 to $10 (or more!) requested donation with proceeds benefiting special needs music students in the Hull High School Music Department. 781-925-4300
There were many incarnations of many Joe Viglione-fronted bands, yet he now says, "I was a better songwriter than I was a bandleader. Nowadays I have John Keegan running the band."
But before getting into what that current band will be doing at the C-Note, Viglione explained where the name The Count came from.
"I used to collect these 8mm films that I bought at Lechmere. They were Universal movies like 'Dracula' and 'House of Dracula.' Some of them were five-minute clips from them, others were 15 minutes. I'd be playing baseball or going swimming with my friends, and afterward they'd come over to my house and watch them. We loved horror movies, but I took it to the next level, where my friends didn't, and they started calling me Drac. (Viglione eventually took to wearing a cape onstage).
"The whole persona of The Count was immature," he added, laughing. "But, you know, I was a teenager. I probably should have gotten away from it because now my close friends still call me Count Joe."
Over the years, there were many albums, and performances at clubs all over town, most notably the Rat, Chet's Last Stand, and the Paradise. But Viglione put performing on the back burner to concentrate on music by other acts. He produced the four-CD Bobby Hebb box set titled "Proud Soul Heritage" and he's currently the publicist at Cantab Lounge in Cambridge. But six years ago, he got a phone call from Hull resident and rocker Michael Weddle, who had the idea of putting together shows made up of musicians who had all played at the venerable Kenmore Square Club the Rathskellar – aka "The Rat."
"Michael called and asked me if I wanted to play at a Rat reunion," recalled Viglione. "He pulled me out of the mothballs. I said yes, and we did the first one at the Red Parrot. [Rat owner] Jimmy Harold came, I played, Unnatural Axe played, Lizzy Borden and the Axes, Reverend Joe Fagan. It was a lot of fun, and so was the second one. Then we moved it over to the C-Note, and it's all been fun.
"The first one was just Rat bands, but Michael has now also added some local high school bands to play in between those. His group, the Climate Change Band, will be following us."
Although Viglione is still putting the set together, he's got a good idea of what it will include.
"For covers, we'll do a couple of Lou Reed's tunes, we'll definitely do 'Pills' by the New York Dolls, and we might do 'Be My Baby.' As far as my originals, I'm sure we'll do "I Want You Sexually' and maybe 'Friend.' "