Coming Attractions: Bloodwork vs Bloodwork https://www.imdb.com/title/tt1562567/?ref_=nm_flmg_act_20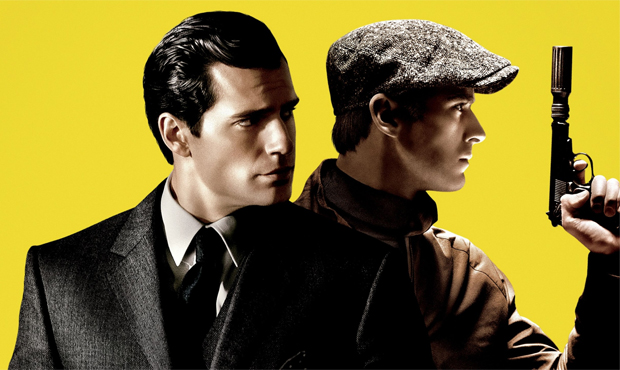 The Man from Uncle

Review: Out of the Furnace – Deliverance Meets Fight Club
By Joe Viglione -December 7, 2013
Woody Harrelson as Harlan DeGroat might not be as frightening as Hannibal Lecter, but in this strange cross between Alpha Dog meets Deliverance meets Fight Club, the viewer gets taken down a dark and mostly unwanted path of outrageous violence, death and negativity that oozes off the screen in a fashion that would make Darth Vader…or Dick Cheney… envious.
Harrelson, William Dafoe, Christian Bale and company all look beaten up and ragged while the pretty people, Casey Affleck and Zoe Saldana, flow down the whirlpool of ugliness during the 116 minutes director Scott Cooper takes to put the audience through the meat grinder. Out of the furnace? More like into the pit and the pendulum.
Movies can be anything the producers and director(s) want them to be, but the bottom line for this critic is the entertainment factor. The Rolling Stones Sweet Summer Sun – Hyde Park Live, another film I'm reviewing at the moment – succeeds because with the avalanche of Stones films currently hitting the market, this one speaks volumes and has "the magic." The aforementioned Fight Club was good for one spin and I've never gone back. Director Tom Holland's 1996 travesty, taken from Stephen King – Thinner – was also an uncomfortable mess that makes Santa Claus vs. the Devil look appealing by comparison. The big difference here is the terrific acting and solid craftsmanship that went into such a morbid and lugubrious script. Like, what's the point? Christian Bale might believe that he was stretching his thespian abilities with this gritty performance, but if you think about it, his character – Russel Blaze – is a poverty-stricken Bruce Wayne in another setting – all the rage and anger and hard luck (in Wayne's case, hard luck with the luxury of lots of cash) not finding a way out of the prism.
Bale is great, but he didn't have to go far to find the conflicted personality after playing a similar role doing his trampoline routine out of the cave in The Dark Knight Rises. Harrelson has made a cottage industry of whacko characters, so his casting call was academic. Meanwhile William Dafoe's underworld gutter-dweller is exactly the classless, vile, miserable wretch that he should have injected into Normon Osborn in the Spiderman series.
The one redeeming diamond in the rough this film uncovers: Casey Affleck's skillful ability to roll with the various sequences his character has to tumble over and through. Scott Cooper's Out of the Furnace is Eraserhead in the deep forests of Appalachia, and not the prettier side of that national treasure.
Out of the Furnace – Official Trailer (HD) Christian Bale
Oz the Great and Powerful
By Joe Viglione
Victor Fleming's stunning land of Oz, the Judy Garland 1939 epic, was built on tight directing, intriguing vignettes placed alongside each other – a weaving of a beautiful tapestry that made sense – and actors that not only brought their characters to life, they made them part of our lives forever.
First rule of trying to re-make The Beatles' Sgt. Pepper's Lonely Hearts Club Band: just ask Robert Stigwood and the Bee Gees how that worked out for them. Touching a classic means more than riding on the good will that classic's coat-tails bring you…and with L. Frank Baum's still under-appreciated Oz works, there is so much room for more magic.
Oz the Great and Powerful gives us some fairy dust, costing five million dollars more than the $195 million dollar Jack the Giant Slayer and offering water monsters with razor-sharp teeth straight out of 1999's Galaxy Quest. The Avatar flowers and waterfalls are also highly derivative, though forgivable if given a great story line and quality acting it could all work. In fact, you go into the theater rooting for this movie to be something great. Sadly, it misses the mark.
I'm going to be somewhat kind as there are quite a few redeeming qualities (though you have to look for them) tucked inside this Great and Powerful Oz, despite the initial reviews being pretty brutal. The black and white opening credits – with 3-D glasses attached – are brilliant. The viewer immediately realizes that black and white means Kansas, and we find ourselves hurtling inside a tornado, another excellent moment – of which there are far too few. The carnival is the perfect place to start the story and we find ourselves looking for a young Professor Marvel from before the 1939 Oz, a young actor who can emulate those precious qualities actor Frank Morgan brought to the big screen.
Morgan was a 49 year old actor who looked older and wiser than his age (he died ten years after the iconic Oz's release). Enter 33 or 34 year old James Franco, who was fine as Will Rodman in Rise of the Planet of the Apes, and who might have fared better there than stumbling through this world of the wicked witches (plural) flying monkeys. Before Franco
even finds this Avatar-ish land of Oz he's given a script that feels like it was written for a school play. Frank Morgan's five characters in the original Oz had a warmth that drew you in, and compassion. The cad that Franco plays here is out-of-place. Were Senator Lloyd Bentson still alive he might say to the Dan Quayle-ish Franco here: " Wizard, I served with Frank Morgan, I knew Frank Morgan, Frank Morgan was a friend of mine. And you, Franco, are no Frank (Morgan)." But I digress.
What's tragic is that there is so much talent out there that could have delivered the goods, think Jake Gyllenhaal in Duncan Jones' exciting Source Code, or Joseph Gordon-Levitt from Inception and The Dark Knight Rises…and it's
not that Franco doesn't have the talent, he just doesn't get ahold of the character in any way, shape or form.
What this film is under Sam Raimi's direction is very much like the stiff Phantom Menace that George Lucas unleashed in 1999, a glitzy piece of eye-candy chock full of superlative special effects with a story-line so thin it did nothing for the majestic trilogy, the Star Wars that came before it. One would think Raimi would want to avoid at all costs the bad casting that Hayden Christensen was for Attack of the Clones and Revenge of the Sith Star Wars' entries (Christensen was fine in 2008's Jumper, just not in the Star Wars film) and you get a grade A lesson in grade Z casting.
Put "Wizard of Oz Characters" into Google IMAGES (currently the third icon on Google) and see the magic unfold.
That's what director Sam Raimi needed to do before giving Michelle Williams the Billie Burke role of Glinda or Ukraine actress Mila Kunis the extreme position of Margaret Hamilton's immortality…they just can't measure up. Indeed, the closer Raimi gets to using shadows and a cackle to remind us of Hamilton's Wicked Witch of the West the better the movie gets. It's a return to the 1939 Oz that Disney needed to seek and on that level the film is flawed and misguided.
This writer has not watched the film Chicago, and probably won't in this lifetime, old-style Broadway musicals just not my cup of tea, but dammit The Wizard of Oz is the musical for people who don't watch musicals and the songs of Harold Arlen and E.Y. Harburg are timeless and essential to it. So when the Munchkins in Oz the Great and Powerful start singing and dancing the movie actually picks up steam…until Franco commands them to stop and it all falls apart.
The usually reliable Rachel Weisz (forty two years of age in this) lacks the true malice for Evanora – the Wicked Witch of the East (who gets the house dropped on her in the 1939 flick) – the menace that Alice Krige brought to Star Trek The Next Generation's STAR TREK: First Contact (1996). Krige, born in 1954, would have been perfect for this part …older and far more malevolent (she also played Morgana in 2010's The Sorcerer's Apprentice) her Borg Queen (resurrected in kinda sorta in 2001 for Star Trek: Voyager's End Game episode) would have sliced and diced Weisz's electrical shock treatment taken directly from the evil Ian McDiarmid's Emperor zapping Luke Skywalker in 1983's Return of the Jedi.
Only Zach Braff (Dr. John "J.D." Dorian from the TV series Scrubs) emerges with heart and any kind of staying power, were he giving a decent supporting cast. And his role is that of the flunky, Frank/Finley.
With the hindsight of the difficult-to-watch Michael Jackson/Diana Ross entry entitled "The Wiz", well, Disney certainly misses the guidance that a bomb can bring. Oz the Great and Powerful could have been so much more and because the signs were there on the highway, it just doesn't get its place on the mantlepiece that it could have with a little more ingenuity, some terrific new songs, and some characters that get stuck in your heart.
Fifty-three year old Sam Raimi who created 1990's wonderfully charismatic Darkman and the three well-crafted Spiderman films with Tobey Maguire can take some solace that the audience at the screening in Boston on March 6th 2013 gave parts of the film some applause. For those of us who traveled Over the Rainbow there's just not enough originality here to take this film to where it needed to be. Maybe next time. The Oz books deserve another chance.

FLIGHT – a film by Robert Zemeckis Jimmy's "Gimme Shelter" and a cover of "Feelin' Alright" (Joe Cocker) when Jimmy produced the original – appear in the Flight trailer. I interviewed Mr. Zemeckis (Director Contact, Back to the Future series) when the film came out, the director, and told him that Jimmy would have loved the placement of the 2 Rolling Stones songs (and Feelin Alright) in his film https://www.youtube.com/watch?v=DzV8R_86LX8
FLIGHT
Directed by Robert Zemeckis
Review by Joe Viglione
Flight is a terrific piece of filmmaking and a morality play from one of the masters of the craft. Robert Zemeckis puts everything on the table here, including originality, something one doesn't see in mainstream motion pictures too often these days. With "Gimme Shelter" by the Rolling Stones playing throughout one of the trailers the internal and the external chaos that are the foundation of this movie are delicately put in a two and a half minute YouTube. As I told Bob Zemeckis during an interview for this film the late Jimmy Miller, producer for Traffic and The Rolling Stones, would be most pleased with the inclusion of his tracks "Sympathy For The Devil" and the aforementioned "Shelter" from the Stones as well as Traffic's rendition of Dave Mason's "Feelin' Alright". "Alright" appears at the beginning courtesy of Joe Cocker, then we get Denzel Washington doing his version on the plane sans band, and Traffic's over the closing credits.
The acting is superb, Tamara Tunie going upside down (quite literally) from her role 15 years ago in The Devil's Advocate, Don Cheadle simply amazing as attorney Hugh Lang with well-known actors John Goodman and Bruce Greenwood so into their craft they are hardly recognizable in their roles of drug dealer Harling Mays and union rep Charlie Anderson, respectively.
Love interest Kelly Reilly as Nicole channels her best Sandra Bullock as she overdoses on smack to the strains of Cowboy Junkies performing Lou Reed's "Sweet Jane." The soundtrack is a total delight while the story twists and turns but keeps your attention during the whopping one hundred and thirty-nine minutes (2 hours, 19 minutes). Along with the ethical questions and the poker games played by the government and corporate machineries in place comes the unspoken query – does serious substance and alcohol abuse bring out gifts in certain individuals that wouldn't ordinarily exist without a little help from those "friends?"
John Goodman's Harling Mays character certainly thinks so and perhaps being married to Roseanne all those years on tv would drive someone to enter into a universe that is totally out of control.
Zemeckis controls the chaos, drives the lens right into the personality storms, and though we see Captain William "Whip" Whitaker straddling the fence, so beyond redemption and so cool, calm and collected, the one aspect of the movie that this writer ponders is if someone can be that together while being so off the deep-end. Drinking and making music is one thing, drinking and driving an airplane, especially with security and airline awareness so prevalent these days, is the one part of Flight that had me suspending belief.
The 31 million dollar epic looks like it cost 169 million more, it's a wonderfully filmed drama which folds the tough story inside stellar performances and clever, studied direction. Recommended and worth seeing a couple or few times on the big screen.