MIRACLES
"Miracles" is one of those phenomenal compositions and productions which could only have come from another universe and is exactly what the title promises — a miracle. The biggest hit and long overdue vindication for one of the founding members of Jefferson Airplane, Marty Balin's exquisite voice finds its most perfect setting soaring above Craig Chaquico's silken guitar lines and Grace Slick's wonderful vocal accompaniment.
It's probably the only time Slick and Balin ever made love, their voices pure sex together inside this tune about the potential of that once-in-a-lifetime friendship. The delicate intro so light and airy, with the brilliant statement "if only you believe like I believe," having faith in both the love affair and metaphysics. When the voices and guitars combine with the saxophone in the instrumental portion of the song, it is pure cosmic joy. Balin said he has a "pocketful of miracles," and fans can only hope he does, because this composition is as perfect a song as anyone could ever write, with production by Jefferson Starship and engineer Larry Cox as sublime as the melody.
When asked how such an amazing work was put together, Balin said matter-of-factly that they just went in (to the studio) and let it happen. It would have been hard to imagine those counterculture revolutionaries who urged anarchy for all the "volunteers" at Woodstock coming up with not only an album rock classic but an adult contemporary standard; however, Red Octopus was the maturing and refinement of a highly intellectual underground band and evidence that the group should have continued in this art/pop direction. "Miracles" is the antithesis of the latter-day Starship's masterpiece, "Nothing's Gonna Stop Us Now," the difference in the two tunes the difference between the two groups.
Where Diane Warren and Albert Hammond manufactured the Grace Slick/Mickey Thomas 1987 number one hit, Balin penned this gem from the heart, fusing the underground elements Slick and he were such an integral part of with subtle power pop. It's just a magical effort like Bobby Hebb's "Sunny," a song that doesn't come along every day and a performance that is one in a million.
The 45, a three-minute-and-30-second version of the six-minute-and-52-second album cut, is edited so cleanly for radio one would think it was the entire tune if not for radio going on the longer track. It got major airplay despite Balin's revealing and quite descriptive lyrics that the censors would've have had a field day with just a half a dozen years prior.
AllMusic Review by Joe Viglione [-]
"Nothing's Gonna Stop Us Now" by Diane Warren and Albert Hammond was the third number one hit for Starship, about as far removed as you could get from Marty Balin's composition, "Miracles," which was the biggest hit that emerged from both the Jefferson Airplane and the Jefferson Starship. "Nothing's Gonna Stop Us Now" is manufactured pop, but as mature bubblegum endorsed by Grace Slick, it didn't need the Oscar nomination to validate its brilliance. As far as techno-rock goes, No Protection is a classic of the genre. The opening "Beat Patrol" is fun, and despite the amalgam of producers — Peter Wolf (not the J. Geils singer) on six songs including the beautiful "Set the Night to Music" which ends this disc, Farrenheit producer Keith Olsen on the Top 10 philosophical mantra "It's Not Over ('Til It's Over)" along with two other titles, and Narada Michael Walden's aforementioned brilliant gem, "Nothing's Gonna Stop Us Now" — it somehow works as they unite for a concise and consistent package. You have only four band members here, drummer/vocalist Donny Baldwin, guitarist Craig Chaquico, and two vocalists, Slick and Mickey Thomas (who, thankfully, kept his sometimes annoying voice to that range of his first hit with Elvin Bishop, "Fooled Around and Fell in Love"), a far cry from the gypsy atmosphere of the Red Octopus days. Like "Beat Patrol," the all-Mickey Thomas "Girls Like You" is a fun little romp, and more importantly, it is the only band contribution, co-written by Craig Chaquico, Thomas, and Steve Diamond, along with two Grace Slick numbers, also co-written, making this album a really manufactured entity. This is a hip version of the Archies; make no mistake about it. One of the great counter-culture bands evolving into Jerry Garcia's worst nightmare. But it works. It is the Archies's for adults, some kind of clean pornography. Peter Wolf and Ina Wolf's "Wings of a Lie" is good work; Martin Page's "The Children" an indicator of how instrumental Page would be to the next phase, Love Among the Cannibals, almost prophesized by Paul Kantner on Winds of Change. It is also important to note that Grace Slick's Software album is really a companion piece to No Protection; she took to this format, further giving it credibility. "I Don't Know Why" is classic Grace Slick; "Transatlantic" from Anton Fig and Slick/Funderburk/Williams' "Babylon" set up the album for the finale, Diane Warren's "Set the Night to Music." This is as much Warren's show — she who helped Aerosmith with their Armageddon title theme — as it is the producers' puppet. Hey, "Nothing's Gonna Stop Us Now" got into both the Mannequin film and its sequel, Mannequin II, and how many themes can claim that? No Protection was the high point for Starship; stripped of the essence of a rock & roll band, it works as a child of Kraftwerk, combining computers and rock music, turning a genius guitarist like Chaquico into a by-product. But one cannot deny that No Protection is brilliant in its embrace of sounds from the cold depths of outer space, a creature Paul Kantner never imagined his "Jefferson Starship" would find.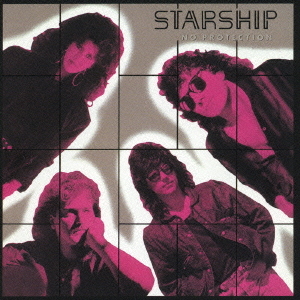 Nothing's Gonna Stop Us Now review by Joe Viglione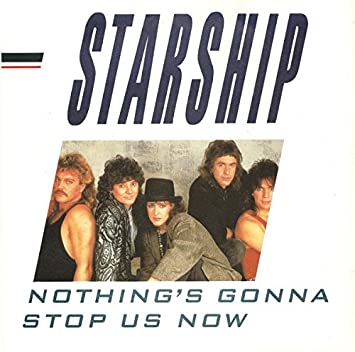 Song Review by Joe Viglione [-]
For those purist fans of the early Jefferson Airplane and Jefferson Starship, a song like "We Built This City" took the path the Marty Balin-less group embarked on with "Jane" (a title Balin actually rehearsed with the group prior to his leaving for a solo career) farther into the arena rock wasteland. The four minutes and 29 seconds of "Nothing's Gonna Stop Us Now" were a huge treat on an entirely different level. It's really more a collaboration between producer/arranger Narada Michael Walden and singers Grace Slick and Mickey Thomas than it is a Starship track. Lead guitarist Craig Chaquico is merely a guest star here, for this is a high-tech quagmire of bells, whistles, strings, and Walden's vision, building the melody into a rock-solid stomp, but for Starship, it is its zenith. If the song "Miracles" was Jefferson Starship at its most potent and creative, "Nothing's Gonna Stop Us Now" is selling out, in a good way. With this tune the band evolved into the counterculture Archies, but Slick remains the Queen of Cool, and she adds a dimension of integrity, even bringing the very best performance out of Thomas, who was all things a singer for Jefferson Starship should not have been. Slick and Thomas work in unison here, not the tapestry that was her marriage with Balin's voice on "Miracles" but an effortless combination like the guitars of Keith Richards and Ronnie Wood, a doubling effect which intensifies the sentiment. The song by Albert Hammond and Diane Warren could not be constructed more perfectly or with such refined precision. Walden has to be commended for merging dance-rock with industrial, and for all the contrived elements, anathema to fans of the institution which once crafted "It's No Secret" and "Plastic Fantastic Lover," this platter is itself a fantastic plastic march of triumph and overcoming all obstacles. It's actually a re-working of Balin's "Miracles" theme, an uplifting accomplishment of love conquering all as the "plastic fantastic lover" in the store window comes to life for the lovelorn hero. Theme to the Twentieth Century Fox motion pictures Mannequin and Mannequin II, it's a song so nice the studio had to play it twice, to paraphrase the late Rolling Stones producer Jimmy Miller.