Welcome to the wonderful psychedelic mystical esoteric world of Joe Viglione…you've entered my realm …as my director says "An Encyclopedia Brittanica" or my thoughts, impressions and scribblings which all started in 1969, 51 years ago, in the pages of Varulven Magazine. The photo below is forty years later in 1999 interviewing either Suzanne Vega or Dennis Lehane. Video, audio, the Pop Explosion Radio Show (Gilbert Gottfried audio aired on April 3, 2020 on ActivateMedia.org …) It's about FUN and Rock History and more…enjoy and you can write me JoeViglione{@}yahoo.com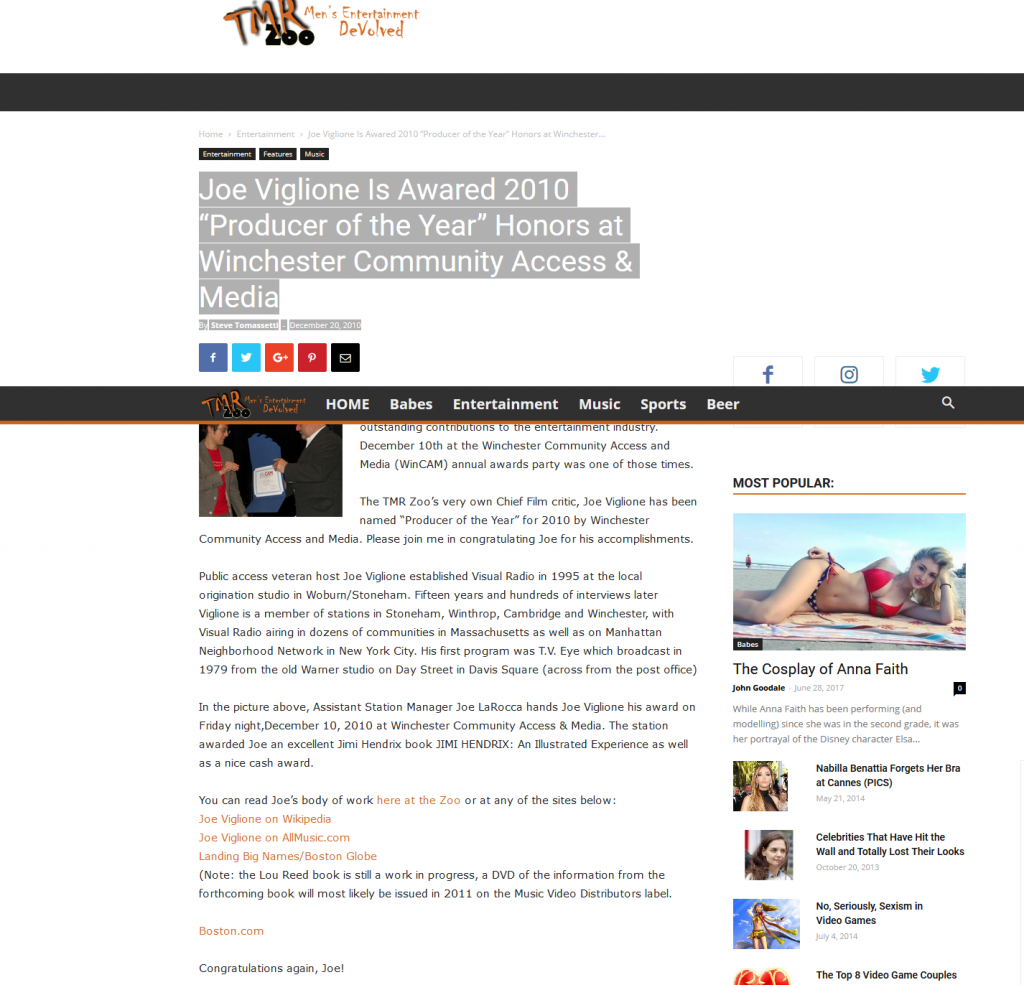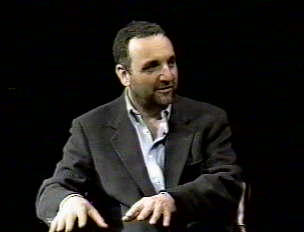 Joe Viglione P.O. Box 2392, Woburn, MA 01888 visual_radio@yahoo.com

TWITTER
http://twitter.com/joeviglione
FACEBOOK
https://www.facebook.com/JoeViglione
eBAY Reviews
On Sunday, July 21, 2013, there are 2,205 or so albums/cds with my words of wisdom, reviews etc. on eBay http://www.ebay.com/dsc/i.html?LH_TitleDesc=1&_from=R40&_sacat=0&_nkw=joe+viglione&_pgn=10&_skc=450&rt=nc
________________________________________________________
Joe Viglione's eBay site "POP EXPLOSION" Items for sale on eBay
_____________________________________________________________________
MUSIC MUSEUM OF NEW ENGLAND
Article on Joe V by Ed Symkus
Before learning guitar, writing songs, donning a cape, and taking the stage name The Count, the Somerville native grew up in a home where his parents played records by Gerry Vale and Mario Lanza, and he listened to "Louie Louie" and "Pushin' Too Hard" on WMEX. The name and the outfit came from his early love of monster movies, and he started a fanzine (1969) and later a record label (1976), both called Varulven (Swedish for werewolf). His band Still – with Jack Daniel and Jack Inza – did their first gig in 1973 at the Coral Reef in Everett. Starting in 1978, Viglione would eventually perform at the Paradise 49 times. He started hosting the Somerville public access show "TV Eye" in 1979, and has been producing and hosting the public access show "Visual Radio" (currently from studios in Winchester) since 1995. Viglione has also made his mark as a record producer, working with dozens of Boston bands including
Unnatural Axe
, and releasing 20 volumes of "The Boston Rock & Roll Anthology Series." In 2008, he directed and produced the DVD "Marty Balin Live on the Boston Esplanade." In 2011, he's executive producing a Bobby Hebb box set. He has, for years, written music and film reviews. "I'm still doing some composing," he said. "I have a piano in the house and I have songs in me. But who has time?"
(by Ed Symkus)
– See more at: http://mmone.org/joe-viglione/#sthash.vXWw45Nw.dpuf
_____________________________________________________
Hello Everyone, welcome to my brand new JoeViglione.com site.
First, I apologize for not having this page up and running properly over the past six years. As many of my friends in Massachusetts know I've been working diligently to correct the public access television situation in Medford, Massachusetts. This means going up to the City Council of Medford almost weekly to bring documents and insight, and rallying the troops so that great programming like Dennis Lehane's recent visit to Bestsellers in Medford. A colleague calls me the "public access evangelist" and the Gospel, the good news, is that this essential platform for Freedom of Speech must be protected. It's the American thing to do. Visual Radio has launched numerous hosts into access TV, the show generating more content and new hosts than most access TV stations. It is an accomplishment I am most proud of. This is my little "Foreword" to the webpage, thus the first person introduction.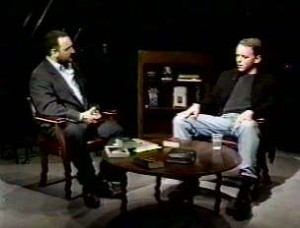 Joe Viglione / Dennis Lehane in 1999 West Medford
New 2013 photo May 21, 2013 at Bestsellers in Medford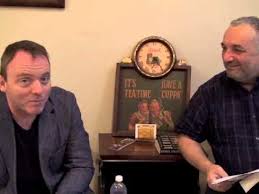 ________________________________________________________________________
DISCONNECT FILM DIRECTOR HENRY ALEX RUBIN WITH JOE VIGLIONE

http://www.madeinmedford.com/recreation/detail/dennis-lehane-at-bestsellers-cafe-on-tue?blockID=544941&feedID=10480
It isn't as easy as connecting with the guest and taping and editing, though it should be. The individuals who are paid our franchise fees to help us do access tv have hijacked it, plain and simple. We are fighting City Hall…and we are winning. More information as this site updates.
Article on Joe Viglione Cable Access Producer Of The Year, 2010/Winchester, MA
http://www.tmrzoo.com/2010/18336
The Official Visual Radio site
http://visual-radio.net.
Joe Viglione on LINKED IN
http://www.linkedin.com/pub/joe-viglione/0/33a/848
THE OFFICIAL JOE VIGLIONE FACEBOOK
http://facebook.com/joeviglione
____________________________________________________________
Joe Viglione is the producer and director of Marty Balin Live on the Boston Esplanade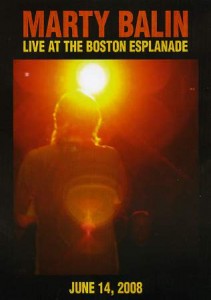 The first solo concert/documentary film on the founding member of the Jefferson Airplane distributed worldwide on Music Video Distributors.
Joe was the first album artist signed to Flamingo/Carrere in 1978, Paris, France.
Flamingo evolved to become New Rose Records where Joe released three additional albums, with material on a number of the New Rose compilation albums, photos and tracks to upload here soon.
As A & R for New Rose Records Joe Viglione signed Willie Loco Alexander in 1980 and New York Dolls guitarist Johnny Thunders' IN COLD BLOOD album, produced by Jimmy Miller.
Joe became Milleri's exclusive representative and business partner co-producing Buddy Guy with Jimmy including sessions with Nils Lofgren, Genya Ravan, Aerosmith's Joe Perry, Joe Petruzelli and others.
Joe has worked with Randy California and SPIRIT ("I Got a Line on You"), Spanky and Our Gang, engineer Dinky Dawson, Ian Lloyd and Stoires, Gary DeCarlo's Steam, and many other classic rock and rollers, issuing the "Versace" single for Marty Balin, promoting Spanky & Our Gag's Back Home Americana, Ian Lloyd's O-de-Po, editing Spirit's "Compromise", promoting MCA artist Evangeline, Alvin Lee with George Harrison and Jon Lord, Rusty Kershaw with Neil Young, John Mooney with Ivan Neville and many, many others.
As founder of Boston's original rock label, Varulven Records, Joe is one of the pioneers of the Boston "New Wave Scene", having performed a record 49 times at the Paradise Theagter, opening for Peter Noone and The Tremblers (1980), Black Flag, Pat Travers, Stiv Bators' Lords of the New Church.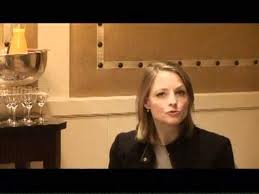 Jodie Foster and Gilbert Gottfried on Visual Radio
images Copyright (C)2013 Joe Viglione Archives, all rights reserved
___________________________________________________________________________
As a television host and radio producer (thus "Visual Radio") Joe has interviewed over 1,000 personalities including Jodie Foster, Ray Manzarek of The Doors, Michael Moore, Robert Zemeckis, Jon Cena, Dennis Lehane, Bill Press of Sirius Satellite Radio, Bobby Hebb, Moulty of The Barbarians, the G Clefs, Danny Klein of the J. Geils Band, Felix Cavaliere of the Rascals, Mark Farner of Grand Funk Railroad, John Densmore of The Doors, Robbie Krieger of The Doors, Adrian Perry of Dead Boots (formerly TAB), Mick Taylor of The Rolling Stones, Denny Dias of Steely Dan, Lou Reed of The Velvet Underground, John Cale of The Velvet Underground, Suzanne Vega, Ian Hunter of Mott The Hoople, Steve Holley of McCarney's Wings/Elton John, Ian Anderson of Jethro Tull, Gary Brooker of Procol Harum and hundreds and hundreds of other wonderful individuals who were generous enough to grant us their time and insight.
PROUD SOUL HERITAGE THE BOBBY HEBB / SUNNY ANTHOLOGY VOL. 1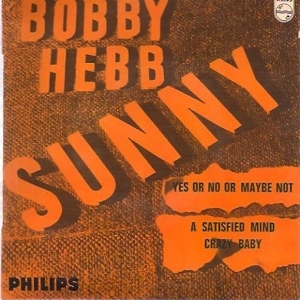 Joe is the producer of the upcoming boxed set PROUD SOUL HERITAGE: The Bobby Hebb / Sunny Anthology Vol. 1. A 4 disc compilation with liner notes authorized by Bobby's manager and estate.
________________________________________________________________________________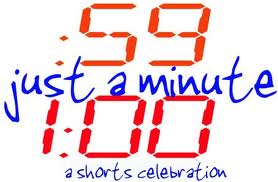 JOE VIGLIONE WINS AWARD / 60 SECOND FILM FESTIVAL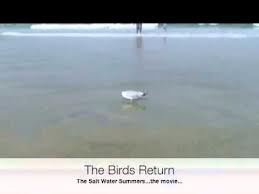 THE BIRDS RETURN
From the film The Salt Water Summers; music by Buzzy Linhart
Joe Viglione won an award for his 60 second film THE BIRDS RETURN funded in part by TV3 Medford. The interesting thing is that Joe Viglione is the leader spearheading the movement to clean up TV3 in Medford, the public access station. The station is engaged in harassing former members, which we find unacceptable. In the most sublime bit of poetic justice, the individuals who have censored the residents of Medford had to pay the fellow fighting for citizens' rights. Watch the video here http://www.madeinmedford.com/recreation/detail/joe-viglione-wins-film-award-with-the-bi?blockID=543875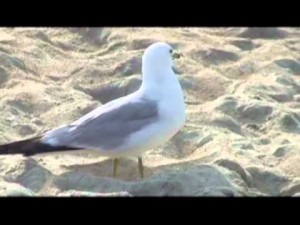 ________________________________________________________________
VISUAL RADIO GALLERY
Rob Gronkowski of N.E. Patriots, Bob Hyldburgh and Joe Viglione / Ray Manzarek
_______________________________________
Gallagher and Joe Viglione
Burton Coummings and Joe Viglione
Joe in his Dracula cape his Nana created for him wearing the 1973 cape in 2012
Jeanne Archibald photo of Joe Viglione with cape in Somerville 1976
LIFESWORK – Joe Viglione Publishing CD
First LP "I'm A Star" by The Count on Flamingo/Carrere Records 1978
________________________________________________________
The original "Another View" EP with Moe Tucker & Joe Viglione
Love and Flame, Joe's second release in Paris, France The Intuition Element – Joe Viglione produced by Jimmy Miller New Changes – the 4th Count LP Produced by Joe Viglione
Joe Viglione organized and co-produced The Best Of Willie Alexander for New Rose Records remastering "Mass. Ave.", "Kerouac", "Hit Her Wid De Axe" and "You Looked So Pretty When" as the master tapes were in North Carolina with the late Stephan Lovelace, the original producer. Engineer Karen Kane worked on the project with me at Howie Cook's Euphoria Sound
_______________________________________________________
New Rose Boxed Set pictured above includes myself, Willie Loco, Alex Chilton and dozens of others.
_________________________________________________________
Joe Viglione talks to Rolling Stones / Bob Dylan guitarist Mick Taylor in Boston before a show. Taped for Visual Radio.
____________________________________________________
BOSTON GLOBE ARTICLE: LANDING BIG NAMES Feb 1, 2004
Cable television host Joseph Viglione launched his Visual Radio Television show nine years ago in Woburn. He has lined up some pretty impressive interviews along the way, which number 300 now and have aired in many local towns. Virgin Airlines founder Richard Branson , singers Judy Collins and Suzanne Vega , performance artist Laurie Anderson , "Mystic River" author Dennis Lehane
http://www.boston.com/news/local/articles/2004/02/01/landing_big_names/
BOSTON GLOBE ARTICLE, PART 2, November 2008
'Visual Radio' founder started early
November 9, 2008 Text size – +
Joe Viglione of Medford was just 15 years old in 1969 when he produced his first issue of Varulven, a fan magazine featuring interviews and film and music reviews. A collector of 8mm science fiction and fantasy films, Viglione was also an aspiring filmmaker and musician whose original songs first aired on WBCN-FM when he was 17.
While his magazine is no longer in production, Viglione has since founded a record label by the same name, worked as a radio station programming director, and continued writing about films and the Boston music scene. Locally, however, Viglione may be best known for his public access television show, "Visual Radio," which is broadcast in 18 towns including Hamilton, Malden, Salem, Wenham, and Winthrop. A weekly segment airs in Manhattan.
Since launching "Visual Radio" in 1995, Viglione has produced more than 400 shows featuring interviews, concerts, and lectures by local authors, politicians, and community activists.
To learn about Visual Radio, visit www.visual-radio.net.
CINDY CANTRELL

http://tinyurl.com/globenovember2008jv
____________________________________________________
Joe has reviews published in these books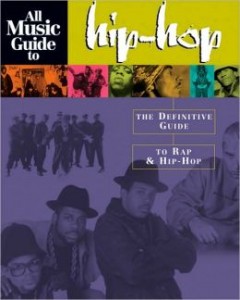 There are tons of reviews in the All Music Guide to Country.
Joe's name is also in All Music Guide, All Music Guide to Electronica, I have not researched to see what review may (or may not) be in Electronica, All Music Guide to Jazz and All Music Guide itself, suffice it to say that I've written about 5,000 biographies, book reviews, DVD reviews, film reviews, CD reviews, song reviews as well as a Suzanne Vega interview for Rovi/AllMusic.com from 2000 – 2009.
_____________________________________________________
Joe wrote the Foreword to Peter Noone's photo book on Herman's Hermits
Peter Noone on Visual Radio. Joe Viglione opened for Noone's band,
THE TREMBLERS at the PARADISE THEATER in 1980. Around 2011 Joe wrote the foreword to Peter Noone's book http://peternoone.com/store/
___________________________________________________________
AS A & R MAN FOR NEW ROSE/RCA, NEW ROSE/MUSIDISC
Joe Viglione was A & R for New Rose Records and brought these two discs by The Saints and the Trogss to Atlantic Records, Arista Records, A & M and other labels in NY in 1992.
_______________________________________________________
As a performer Joe Vig has the world's record for performances at the Paradise Theater in Boston, 49!
Joe has played Great Woods, the Rathskellar, the Club in Cambridge, Cantones, Jack's, Jaspers, Jumbos, Geno's in Portland Maine, The Cantab Downstairs (1974), Club Bohemia (The Cantab Downstairs) 2012 and dozens of venues with hundreds and hundreds of performances. A seasoned veteran of stage, the recording studio and television, Joe has produced dozens of recording artists including the rare Unnatural Axe EP which was re-released on Rhino/Atlantic as DIY MASS AVE
Joe's own THE GUITARMASTER was the Record of the Year in 1978 (The Real Paper), and he was one of the first Boston area artists to get a half page spread in the prestigious CREEM Magazine (on the same page as The Who); was cited as one of the FIVE BEST BANDS in BOSTON by Playboy Magazine, noted as having the Record of the Month in L'Attendant Magazine (Belgium), called "By far the best record of the month" in Phonograph Records Magazine (America), he has written an op-ed for Billboard Magazine, with articles in Goldmine, Discoveries, Radioworld, Replication News, Medialine, The Music Producer's Journal (a Wayne Green publication), Musician's Magazine Boston, Arts Media Magazine, Gemmzine, Artscope (edited the very first issue as well), The Beat, Fffanzeen, Preview, the Improper Bostonian, the Boston Globe, the Real Paper, hired to help out with the very first Boston Band Guide in the Boston Phoenix (1982 or so), and is currently the chief film critic at TMR Zoo as well as writing for the U.K. zine Sabotage Times.
___________________________________
New Joe Viglione review of "Sunny" by Toots and the Maytals July 21, 2013 4:22 PM
This two minute and fifty-four second rendition of Bobby Hebb's "Sunny" is jam-packed with rock, reggae and a splashy psychedelic guitar, imagine Sly and the Family Stone in slow motion with a thought-provoking vocal and solid groove. The mix is terrific, swirling textures under a soulful lead vocal that brings this song into a wonderful new dimension. With over 1400 recorded (and YouTube) performances it is amazing that Hebb's masterpiece continues to find new flavorings and vibrations. The solid drumbeat here allows the backing vocals and rising instrumentation to weave an entirely new chapter for this familiar melody. Captivating is the only way to describe it.
http://www.amazon.com/gp/product/B006MT74T8/ref=cm_cr_ryp_prd_img_sol_0
Original Release Date: December 20, 2011
Label: Measurable Music
Copyright: 1966 Portable Music Co. Inc.
Duration: 2:54 minutes
Websites of Note:
Larry Jaffee https://www.rocksbackpages.com/Library/Writer/larry-jaffee
Paul Norman's Uplift Show https://upliftshow.com/current-season
Ian Anderson / Jethro Tull http://jethrotull.com/
Anne Leighton https://anneleighton.com/
Jeff Mastroberti https://jeffland1.blogspot.com/
Lesley Palmiter Voice https://www.lesleypalmitervoice.com/
Matt O'Connor http://mattoconnor.blogspot.com/
Dean Petrella and the Complaints https://www.thecomplaints.com/
Unnatural Axe Music Museum of N.E. https://www.mmone.org/unnatural-axe/
Joe Viglione on AllMusic.com https://www.allmusic.com/artist/joe-viglione-mn0001340908/credits
Joe Viglione on DISCOGS.com https://www.discogs.com/artist/657563-Joseph-A-Viglione
Joe Viglione on Vampire Freaks . com http://joeviglionevampirefreaks.blogspot.com/2011/05/return-of-count.html
Joe Vig's First Impressions http://joevigfirstimpressions.blogspot.com/2004/07/joe-vigs-first-impressions-tm.html?m=1
Blue Cheer Reviews http://pageonembm.blogspot.com/2010/01/dickie-peterson-blue-cheer.html
The Channel – Boston's Best Rock Joe Viglione page
Joe Viglione's eBay
POP EXPLOSION
https://www.ebay.com/usr/pop_explosion?_trksid=p2047675.l2559
Joe Viglione wrote many reviews of artists that played the Channel and recorded for his Anthology albums. Checkout his Eighties blog
http://bostontheeighties.blogspot.com/2007/07/80s-boston-rock-roll.html
The Channel Boston's Best Live Rock page http://www.bostonsbestliverock.com/?p=513
Tim Jackson's website http://www.timjacksonweb.com/?fbclid=IwAR1PRvn1EloTzoXIADsY8Ggflcgd3nV3ymaN2o1SDKpmibyYlyGBaYr_Xpg
Fresh Air with Terry Gross – Anthony DeCurtis writes biography on Lou Reed https://freshairarchive.org/segments/biographer-sought-write-kind-book-lou-reed-deserved-0
---
SIRIUS XM with Genya Ravan: Genya escaped a WWII concentration camp as a child and came to America full of piss and vinegar. In the '60s she formed the very FIRST all-girl band, Goldie & the Gingerbreads, signed by Ahmet Ertegun to Atlantic Records. She has since produced the Dead Boys, Tiny Tim and Kool & the Gang. https://m.siriusxm.com/servlet/Satellite?c=StreamJockey&childpagename=SXM/StreamJockey/MOB_HostDetail&cid=1158082434063&pagename=SXM/Wrapper
Janis Reed Ink http://janisreedink.blogspot.com/2007/07/hotline-to-underground_08.html
The Joe Vig Top 40 dot com http://joevigtop40.blogspot.com/2007/05/top-40-may-2007.html
Mark Snyder's PMP Network http://www.pmpnetwork.com/ReviewsData/movies.htm
The Blacklisted Journal – Edited by Al Aronowitz http://www.blacklistedjournalist.com/1jvig.html
Peter Calo Dot Com https://petercalo.com/
Ace of Hearts Records https://aceofheartsrecords.com/
http://i-potatomusic.com/BMG_Gig_Archive.htm?fbclid=IwAR3wbTLLXsdsZw2Xu0avJ4PawihhcQnVJXGYVr7p9l0TfK4cgBMUjy9HoJs
AllMusic.com https://www.allmusic.com/album/elevate-21-pop-and-indie-gems-from-the-underground-mw0001488573
PANDORA https://www.pandora.com/artist/various-artists/elevate-21-pop-and-indie-gems-from-the-underground/ALhfxg3fw7zzzPV
MEET THE BEATLES FOR REAL http://www.meetthebeatlesforreal.com/2016/08/when-john-lubinski-met-beatles-in-boston.html
Fox Pass https://arlington.wickedlocal.com/article/20100715/NEWS/307159797