AllMusic Review by Joe Viglione [-]
Sublime is the only way to describe Keith's biggest hit, the top 10 "98.6" and the almost as wonderful Top 40 hit which preceded it two months before, "Ain't Gonna Lie". This twelve song album is resplendent in Kal Rudman's obtuse, exaggerated liner notes which years later read like so much unnecessary nonsense and hyperbole. The artist deserved a more classy approach. All three albums by Keith are highly listenable adventures, and though one tune here, "White Lightin', would have been better left on the cutting room floor, there's a real nugget in the cover of "Tell Me To My Face", written by Graham Nash, Allan Clarke and Tony Hicks from The Hollies Stop! Stop! Stop! album. That's the disc where those three Hollies wrote all the tunes on their own, and it's a wonderful find. In fact, the Alice Cooper group lifted their melody for "Billion Dollar Babies" right from this composition, almost note for note. The rendition here has Arabian nights instrumentation, clever, classy and memorable. For the most part the album is solid material, Fischoff, Powers, producer Jerry Ross and arranger Joe Renzetti dominating the album with adult pop, a stunning amalgam of Chris Montez meets Tony Hatch. Ross, Renzetti, Fischoff and Powers have the perfect voice/vehicle for their smartly crafted melodies and the singer is always in tune with very appealing vocal chords. It sounds like they modeled this material after what Burt Bacharach and Hal David were doing for Dionne Warwick and the pity here is that Keith didn't get the chance as Dionne did to send songs like "Our Love Started All Over Again" way up the charts. You can hear hints of Gene Pitney, elements that combine and make for a refreshing sixties moment that got away. Such a shame, for the brilliance of "98.6" was no fluke, Keith was the real thing. Maybe it was Kal Rudman's incessant gushing that held this creative collection of melodies back? Still, "98.6" remains as a truly special pop moment, a song as monumental as Al Anderson's "No Good To Cry" and, thankfully, not as obscure.

https://www.allmusic.com/album/986-aint-gonna-lie-mw0000873530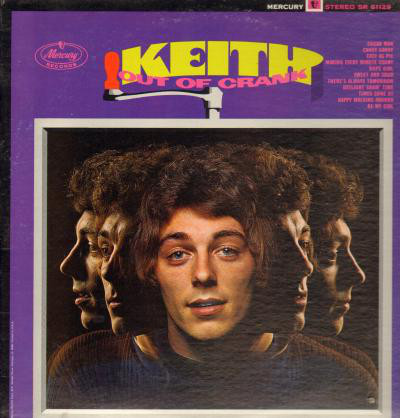 AllMusic Review by Joe Viglione [-]
"Sugar Man" leads off Keith's follow-up to his debut album. Written by Sandy Linzer and Denny Rendell, producer Jerry Ross seems to be pulling out all the stops. Out of Crank is a good Keith record, but not as strong as the album that preceded it, nor as listenable as his highly experimental The Adventures of Keith that followed this release. "Candy" feels like his hit "98.6" with a bit of show tune flavor. "Easy As Pie" also has that "98.6" vibe, producer Ross knowing a good thing and clearly trying to capitalize on earlier success. The cover of Spanky & Our Gang's "Making Every Minute Count" doesn't have the strength of the hit version, also on Mercury. Keith has a radio-friendly voice for pop, and he had enough edge to keep him from falling into the Brian Hyland/Tommy Roe zone of teeny bop. The Renzetti/Ross "There's Always Tomorrow" is one of the highlights, as is "Daylight Savin' Time," Ross knowing how to write a good hook. The verses are distinct enough but the chorus is pure "98.6." When you talk about typecasting, this album is a perfect example. Still, the sequel to Keith's biggest hit is great, albeit blatant. "Times Gone By" is a pleasant departure, co-written by Ross/Gamble, the team that composed Bobby Hebb's "You Don't Know What You Got Until You Lose It." Keith's own "Happy Walking Around" is his first original to show up on either this or the earlier recording, and it is the most innovative thing on this disc, a good indication of the substantial path he would set out on. "Be My Girl" by Spector/Sands is in the same style as the rest of this album, very pop, and nothing to be ashamed of.

https://www.allmusic.com/album/out-of-crank-mw0000923993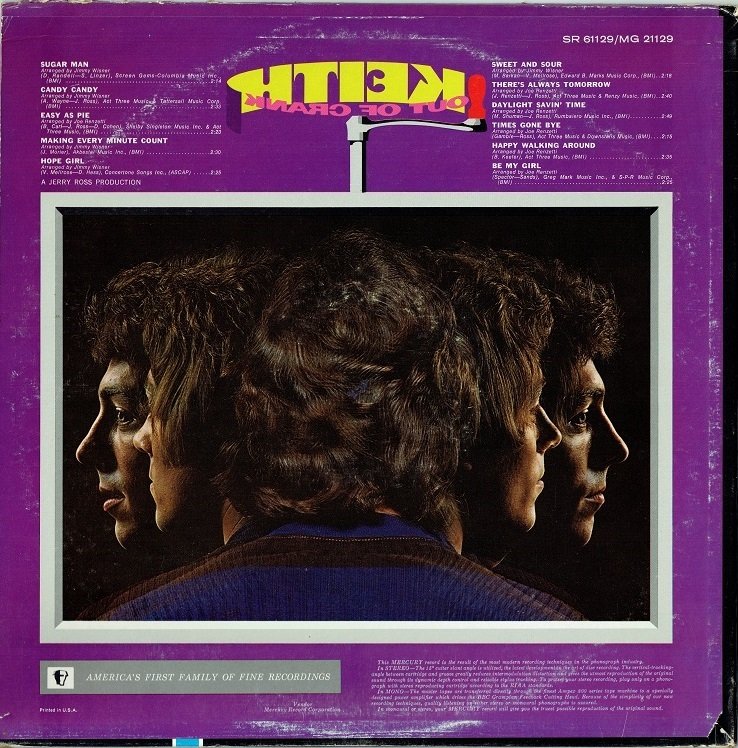 AllMusic Review by Joe Viglione [-]
"Alone on the Shore" opens the third album by Keith, the one name handle for James Barry Keefer. The shimmering pop that was created by Bobby Hebb producer Jerry Ross and arranger Joe Renzetti on the first two Mercury discs is replaced by original compositions and the arrangement of the meticulous Larry Fallon. Fallon is credited for arranging The Looking Glass hit "Brandy (You're a Fine Girl," however, he is the actual producer on that disc. He is one of the industry's underrated talents, and he allows Keith's band of David Jiminez (guitar), Joe Coyle (ryhthm guitar), Dave Fiebert (bass), and Rick Fox (drums) to experiment in ways that are admirable. This LP plays more like latter day Donovan, another one-name pop maestro. "Alone on the Shore" and "Trixon's Election" are heady pop tunes, maybe too deep for Top 40 at the time. Even Buffalo Springfield knew enough to temper their politics with radio friendly music. The sounds here are an intriguing mixture of '60s garage rock with British pop, flavors of The Beatles, The Small Faces, Kaleidoscope UK, and other psychedelic rockers. The production by Ted Daryll allows this group to stretch out. "Waiting to Be" is five minutes and thirty eight seconds of psychedelic jam. Keith wrote only one song on his second album, none on his first, so RCA Records showed some kind of faith in the artist allowing him to compose/co-write all ten titles on The Adventures of Keith. These are adventurous tunes, and worth listening to. It's a natural progression from the second album's Jimmy "Wiz" Wisner's (yes, the one and the same from Tommy James & the Shondells sessions), arrangement of the Spanky & Our Gang hit "Making Every Minute Count" to the short one minute and fifty six second "Melody," which begins like a track from one of the first two Keith albums, diving into the progressive nature of this recording, and back to the pop sensibilities of the first two LPs. "The Problem," which is the last song on side one, was issued as a single with the excellent "Marstrand," the first track of side two. "Elea-Elea" is another five minute plus track, and one of the album's standouts. Great melody and all the indications that Keith should have been a major, major pop star. Where Donovan had Led Zeppelin performing on "Hurdy Gurdy Man" and the Jeff Beck Group behind him on "Goo Goo Barabajagal" helping churn out the hits, Keith and his band crafted an album perfect for FM radio, perhaps a bit ahead of its time for an artist known for covering the Hollies. But Keith's musical direction here is impressive and reiterates how clever his three Top 40 hits prior to this release really were.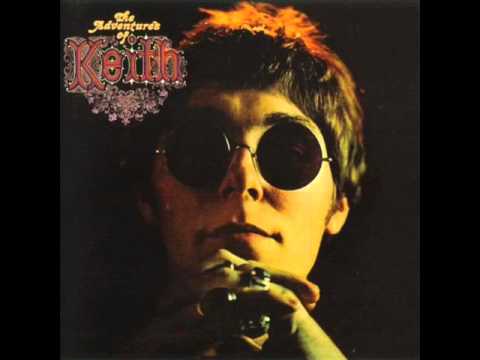 https://www.allmusic.com/album/the-adventures-of-odd-keith-mw0000796076