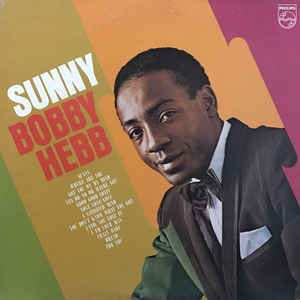 Joe Viglione Press Release Mon, Jul 19, 2004 at 9:22 A
Bobby Hebb's classic "Sunny" album, 12 songs produced
by Jerry Ross and arranged by Joe Renzetti, has only
been available on vinyl or as an import CD from Japan.
That all changes on July 30, 2004, four days after
Mr. Hebb's birthday! (Uni might actually push the
date up a few days, so the release date could actually
be closer to his birthday which is Saturday, July 26).
The label is Hip-O Select http://www.hiposelect.com/
and as of Thursday, July 8, 2004, you will be able
to read my four paragraphs about the album on that
sit http://www.hiposelect.com/ and hear Bobby's
voice talking about the disc!
The good people at Hip-O have informed me that they
only do one publicity push when the album is released.
SO – if you do not get Hip-O select product, please
let me know, and you will receive a copy of this
fantastic and important collection of twelve tunes!
=====================================================
Some background on this album's re-release:
About 13 months ago I contacted Uni about re-releasing
SUNNY DELUXE – the original album with some of the
many bonus tracks from the vaults (there are about 20!
unreleased and only released on 45 RPM titles).
Sunny Deluxe was in motion, until we got an e mail
from HipO Select that they wanted to re-issue the
title. Bobby is thrilled! to be part of this
prestigious re-release series.
The original album is out this month, and down the
road HipO Select plans on re-releasing the
SUNNY DELUXE project Bobby and I have been working on
for the past couple of years.
I first corresponded with Mr. Hebb in the 1980s, but
we never met until he appeared on Visual Radio #3 in
1995. When AMG hired me it was an honor to write
Bobby's biography for them as well as many record
reviews with versions of this classic song – "Sunny".
I've also videotaped many Bobby Hebb shows over the
past nine years. While collecting all of Bobby Hebb's
45s tracked from the 1950s to the 1980s the idea to
put them out on a "Sunny Deluxe" was a natural! So
we approached Uni Music. And now the album is going
to be a reality in America – the first edition being
exactly as it was released in 1966, same liner notes,
same tracking, a re-release on CD in America of the
original classic.
An e-mail from the mastering engineer: Mon, Aug 30, 2004 at 6:05 PM

Hi Joe
Thanks for the kind words on the mastering. We have
worked very hard to establish a specific sound for
Hip-O and Hip-O/Select and we are very pleased
ourselves with the outcome. Dana Smart and I decided
right from the starting gate that it would be better
to treat these recordings more like we were mastering
them for vinyl and then do the conversion to digital
at the last stage and not hit them with modern day
scorched levels. i.e. keep them warm.
That record "Restless" I made is a few years old now.
I made a few others but they are not out yet.
I have submitted a record for Thane to consider for
Hip-O/Select of Christmas tunes done in a sort of Leo
Kottke/Michael Hedges/bluesy style. If it gets
accepted perhaps that would be a good one for a
review. If you'd still like a copy of Restless I can
send one to you.
Thanks
Gavin Lurssen
The Mastering Lab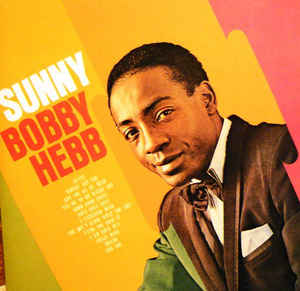 For press copies:
joe viglione
editor Bobby Hebb website
Bobby Hebb Bio
SUNNY album review
http://www.allmusic.com/cg/amg.dll?p=amg&uid=UIDSUB040406010007070984&sql=A1
gae4j271wav
Bobby Hebb's LOVE GAMES (Epic, 1970)
http://www.allmusic.com/cg/amg.dll?p=amg&uid=UIDSUB040406010007070984&sql=A6
rhqoauaqijx
Jackpot soundtrack with "Sunny"
http://www.allmusic.com/cg/amg.dll?p=amg&uid=UIDSUB040406010007070984&sql=A4
g57gjvr36ib
Kevin Costner film THE WAR (Soundtrack)
http://www.allmusic.com/cg/amg.dll?p=amg&uid=UIDSUB040406010007070984&sql=Ar
4ke4jo73wav
A Collection Of Various Interpretations of SUNNY Vol.1
http://www.allmusic.com/cg/amg.dll?p=amg&uid=UIDSUB040406010007070984&sql=A3
6psa9wgq23g
A Collection/Various Iterpretations Sunny Vol. 2
(2002)
http://www.allmusic.com/cg/amg.dll?p=amg&uid=UIDSUB040406010007070984&sql=Ao
0mtk65xrkr0
Johnny Mathis "Sings" with "Sunny"
http://www.allmusic.com/cg/amg.dll?p=amg&uid=UIDSUB040406010007070984&sql=A6
d27gj4rj6ix
Dusty Springfield Covers "Sunny"
http://www.allmusic.com/cg/amg.dll?p=amg&uid=UIDSUB040406010007070984&sql=A0
xftxq85ldte
Frankie Valli TIMELESS
http://www.allmusic.com/cg/amg.dll?p=amg&uid=UIDSUB040406010007070984&sql=Az
i6m967o3ep6
Ferrante & Teicher A BOUQUET OF HITS with Sunny
http://www.allmusic.com/cg/amg.dll?p=amg&uid=UIDSUB040406010007070984&sql=A3
2jueau04xf7
Chris Montez "Time After Time" with "Sunny"
http://www.allmusic.com/cg/amg.dll?p=amg&uid=UIDSUB040406010007070984&sql=As
i4zefwkhgf2
Shirley Bassey with "Sunny" THIS IS MY LIFE
http://www.allmusic.com/cg/amg.dll?p=amg&uid=UIDSUB040406010007070984&sql=Aa
h4gtq0z9u46
Stevie Wonder LIVE
http://www.allmusic.com/cg/amg.dll?p=amg&uid=UIDSUB040406010007070984&sql=Av
r6m967o3epf
LINER NOTES: THAT'S ALL I WANNA KNOW
This album's title is a variation of the James Carr /
Roosevelt Jamison track, "That´s What I Want To Know",
which appears on only the third album released (so
far)
by the "song a day man", Bobby Hebb. It's not that
Bobby doesn't have lots of albums in the vaults – he
taped a full project in 2002 with his friend Bernard
"Pretty" Purdie, tracked an orchestrated collection of
tunes in the early 1980s, put together another album
in the late 1970s at Fleetwood Recording in Revere,
Massachusetts, and has publishing demos galore as well
as enough very strong material in the Philips vaults
to release the legitimate follow-up to the "Sunny"
album.
But Tuition's release of "That's All I Wanna Know" in
2005 is the first commercial release by Bobby Hebb
since James Flemming Rasmussen produced "Love Games"
for Epic Records in 1970, 35 years before the consumer
could purchase a new collection of material by the man
who wrote and sang "Sunny".
Rüdiger Ladwig, who had released two volumes of
"Sunny" cover versions on the Trocadero label,
conceived this 41 minute 13 track disc after he first
met the artist during Bobby Hebb's June 2002 tour of
Germany. "I had the idea doing an album when Bobby
played "Cold Cold Night" live at Radio 1 Berlin while
promoting "A Collection of Various Interpretations Of
Sunny, Part 2″, Rüdiger noted.
"Cold Cold Night" was written by Bobby and Phil Medley
at Phil's office on Sixth Avenue (Ave. Of The
Americas) in New York. Phil is most famous for "A
Million To One", the hit for Jimmy Charles and Donny
Osmond, as well as "Twist & Shout" (Shaking Up
Baby…), which charted by The Isley Brothers in 1962
and The Beatles in 1964 and 1986. This is the first
time the Phil Medley/Bobby Hebb collaboration has ever
been put on an album!
Rüdiger's general idea for this music, recorded in
March of 2003 just as the Iraq war began, was to
re-record earlier Bobby Hebb material, track the first
ever "duet" of "Sunny" by the original artist,
and follow Bobby's musical paths. From "Proud Woman",
the Fred Burch/Skip Gibbs tune that Johnny Adams put
on disc, to Hank Williams "Cold Cold Heart", which was
in the repertoire of Roy Acuff, the man a twelve or
thirteen year old Bobby Hebb toured with in the early
1950s, "That's All I Wanna Know" is an audio journey
touching various aspects of this legendary performer's
career.
Since Lou Rawls won a Grammy with Bobby Hebb and Sandy
Baron's classic, "A Natural Man", Rudiger wanted to
return the favor – so Bobby performs a Lou Rawls
staple, "When Love Goes Wrong", in this collection.
Song selection runs the gamut – contemporary music
like "Willow Tree" (from the catalog of Philadelphia's
G.Love And The Special Sauce) to the tried and true –
a cover of Richard Shann's "Don't Tear Me Down", made
famous by Charlie Rich.
"That's All I Wanna Know" also gives the
world updates on Hebb's other chart recordings
starting with a very funky reworking of "A Satisfied
Mind", the song Roy Acuff loved to play. Joe "Red"
Hayes/Jack Rhodes composed this popular title which
hit for Porter Wagoner in 1955 and broke the Top 40 in
America
for Bobby in November of 1966. Also re-cut for this
disc is the 1972 sleeper hit in the U.K., the
fantastic "Love, Love, Love", composed by "Sunny"
arranger Joe Renzetti and producer Jerry Ross. The
Northern Soul classic charted in the U.K. six years
after it was initially released. A surprise bonus is a
re-make of Darryl Carter's "Bound By Love", a Philips
45 (#40482) that came after "Sunny", but has yet to be
on any album.
This third full-length commercial release from Bobby
Hebb also has the songwriter/interpreter playing with
a new set of musicians, their names available in the
credits, which gives the album a uniqueness and
special vitality.
Bobby discussed these new recordings on August 1,
2005, stating: "My studies of life are basically
represented here through different episodes – there
are songs like these songs that help us to understand
each other."
====================================================================
Part 2
"Love Games" producer James Flemming Rasmussen says
that when he thinks about Bobby Hebb "I think of a
wonderful human being, a warm and kind person with
amazing talent. All that Bobby is – is so
special" – and that is so accurate. Walking through
the lovely town of Rockport, Massachusetts on Cape Ann
on a summer day with Mr. Hebb, it was amazing to see
the amount of people who would wave to him and stop
him in the street to chat. He could run for Mayor –
if towns in Massachusetts had mayors! And that's a
big part of why these recordings are so very special –
because they have that uptempo optimism which makes
you feel happy when you hear the re-make of "Love Love
Love" or what this writer feels is the next Northern
Soul classic, the moving and very danceable "Don't
Tear Me Down".
A niche musical movement like Northern Soul has lasted
for decades, but the original "Love Love Love"
launched from the early days of that scene in 1971 six
years after the "Sunny" album was released. In search
of more Hebb music the rabid Northern Soul fans
discovered the Gamble & Huff gem, "You Want To Change
Me". This new album should satisfy those on the dance
floor who want to move and groove – and the two new
versions of "Sunny", a duet in English and a duet in
French, are the first instances where the original
songwriter/singer of the classic is singing with
someone else. The French version features
Pat Appelton of De-Phazz while the English is a duet
with Astrid North of Cultured Pearls.
Back in 1962 Bobby recorded a single, "I Wanna Know",
with Sylvia Robinson under the duo name of "Bobby &
Sylvia" – there are over a hundred songs with that
title, this one credited to "Lovettes" (possibly the
60s R & B band). "That's All I Wanna Know" is the
title of this record, and all you NEED to know comes
from the man himself:
"There's a big difference between want and need; quite
a few things we need that we aren't aware of,
disguised as things that we want; things we need we
are usually able to receive, but we don't always get
everything we want." Bobby Hebb
======================================================
Bobby had a dream 25-30 years ago, and in the dream
Sylvia Robinson said: "This is a hit for you, Mojo"
and in that dream Sylvia told Bobby how she wanted him
to record the music, "so that's how I did it."
Bobby went on to say "In the congo you would hear
drums; this was done with a rhythmic expression,
(but)that's still music. This is a form of
communication -in my case I'm saying "relax".
You can now relax to the long awaited third album from
Bobby Hebb. It fits all sorts of genres – the cool
vibe of the Lounge set – the hip 'Bachelor Pad"
music; the pop fans who have waited 35 years for more
music from Bobby Hebb, and those wonderful people who
dance to Northern Soul – it is all here, in glorious
stereo.
Joe Viglione
Rock Journalist
Joe Viglione
THE TRACKING 1-13
1. Different Strokes (2.38) Johnny Cameron/John
Zachary
From Syl Johnson's 1970 album IS IT BECAUSE I'm BLACK
http://www.allmusic.com/cg/amg.dll?
p=amg&token=ADFEAEE47319DD49A87520C89B2C45F6A672FE19D650DA971F28455A92B63E45913E65CA46F68BA5DBB67DAB78B0FD2EA45F43D2CAE454F8D6643A2DED93&sql=10:0krsa9tgu23g
2. Cold Cold Night (Bobby Hebb / Phil Medley) (3.20)
Written at Phil Medley's office on Avenue Of The
America's in New York City
3. A Satisfied Mind (2.41) (Joe "Red" Hayes/Jack
Rhodes)
4. Proud Woman (Fred Burch/Skip Gibbs)(3.24)
5. Sunny (3.32) (Bobby Hebb)
(English version; duet with Astrid North of Cultured
Pearls)
5. Sunny (Bobby Hebb) (3.32)
(French version; duet with Pat Appelton of De-Phazz)
6. When Love Goes Wrong
(James W. Alexander/Ben Raleigh) (2:55)
recorded by Lou Rawls
7. We´re Gonna Make It (3.08) Carl Smith / Billy Davis
/ Raynard Miner / Gene Barge
8. Cold Cold Heart (2.17) (Hank Williams)
9. Bound By Love (3.21) (Darryl Carter) BMI
http://repertoire.bmi.com/title.asp?blnWriter=True&blnPublisher=True&blnArtist=True&keyID=143336&ShowNbr=0&ShowSeqNbr=0&querytype=WorkID
Screen Gems Music
CAE/IPI #: 36205509
Phone: (212) 830-2000
Fax: (212) 830-5198
Contact: EMI MUSIC PUBLISHING, LINDA_SANTIAGO
810 SEVENTH AVENUE
NEW YORK, NY 10019-5818
http://www.emimusicpub.
A copy of Philips #40482
http://gemm.com/q.cgi?rb=FROOGLE&wild=GML573604902
10. Willow Tree (2.40) (G. Love)
11. Don´t Tear Me Down (2.42) (Richard Shann)
12. That´s What I Want To Know
(James Carr / Roosevelt Jamison)(3.48)
=====
Bobby Hebb 45 RPM Recording Project
P.O. Box 2392
Woburn, MA 01888
13. Love Love Love (Jerry Ross / Joe Renzetti) (4.06)
Bobby Hebb's "Sunny" (Philips 40365) has captivated generations with its
immaculate melody and philosophy to always look at the bright side.
Though many have speculated that Hebb wrote the song for God or for his
brother and mentor, Hal Hebb, the singer has stated many times the tune is
about a "sunny disposition", something his mom impressed upon him. And
though this recording loved by millions led to Bobby touring with The
Beatles in 1966, the eleven other performances on the album titled after
the mega hit are also of great substance and filled with entertainment
value.
"Sunny" became a #1 hit in Cashbox Magazine and #2 in Billboard the week
of Bobby Hebb's 28th birthday, July 26, 1966 (Coincidentally, "Night Train
To Nashville" hit #1 on the Billboard internet charts 7/26/04, 38 years to
the week after "Sunny"). Less than four months later track #7, "A
Satisfied Mind" would break the Billboard Top 40. The song was a #1
Country hit for Porter Wagoner eleven years earlier, but more important to
Bobby, it was in the repertoire of Roy Acuff, the man called "the king of
the hillbillies." It was as a member of Acuff's band that Hebb appeared on
the Grand Ole Opry and in 1998 "A Satisfied Mind" was licensed by the
Country Music Foundation for the Warner Brothers 3 CD boxed set "From
Where I Stand: The Black Experience In Country Music." A third hit from
the album was track #6, co-written by the album's producer, Jerry Ross,
along with its arranger, Joe Renzetti. "Love, Love, Love" (the flip of "A
Satisfied Mind) became a hit recording in England finding new popularity
decades later as the "Northern Soul" phenomenon brings a new audience
awareness of this important music. The sublime merging of the Philly and
the Motown sounds is an eternal treat. It is the lead-off track on "Out On
The Floor Again: 28 Norther Soul Floor Fillers", a compilation which
places the song in the British Top 35 in 1972, six years after its
original release. "Love Love Love" also shows up on the 2001 British
compilation, "Northern Soul Connoisseurs", though minus fifteen seconds of
the intro.
Producer Jerry Ross tracked a number of demos with Bobby Hebb prior to the
album, and there are many more songs – some in the Philips (now Uni)
vaults, some released on a number of Philips 45 RPMS.
Bobby's original, "Crazy Baby" (Philips 40421), became a third release
from the album with a brilliant non-lp B side written by the great Kenny
Gamble, a song entitled "Love Me" which is a second-cousin to "Sunny", if
you will. In Argentina the 45 was titled "Amame/nena Loca" ("Love Me" b/w
"Crazy Baby"}. "Apple Peaches Pumpkin Pie", the Jerry Ross/Joe Renzetti
hit for Jay Proctor and The Techniques was originally tracked for Bobby
Hebb and is listed in the master tape catalog as "Pumpkin Pie". It may or
may not have a vocal on it.
Before the legendary Gamble & Huff would write and produce for Bobby, a
highly collectible 45 entitled "You Want To Change Me" b/w Hebb's own
"Dreamy", Kenny Gamble composed "You Don't Know What You Got Until You
Lose It" with producer Jerry Ross, track 8 on the Sunny CD. Their
participation was as essential as Barry Mann and Cynthia Weil's with the
album's shortest track, the one minute and twenty nine second "Good Good
Lovin' ", and the legendary Van McCoy's album closer, the elegant and
Drifter's-styled "For You." McCoy wrote "Baby I'm Yours" for Barbara
Lewis and his own hit, "The Hustle", of course, and this love song from
his pen is a classic conclusion to a classic rhythm and blues album.
The 43 minutes and seventeen seconds of the original l.p. (which will
eventually be expanded in a HipO Select Deluxe edition) found digital
release around the turn of the new millennium on Vivid Sound Corporation's
Japanese issue. A wonderful compact disc with Japanese and English lyrics
on an insert are included in the 1999 re-release, five years before the
HipO Select version. Though in the new millenium Mr. Hebb is still the
"song a day man", his vast repertoire was not tapped for the dozen tunes
that appeared on his debut lp, in fact only "Crazy Baby" along with "Yes
Or No Or Maybe Not" joined the classic "Sunny" as ideas from his fountain
pen. That's only 25 % of the material composed by the singer/songwriter.
If you consider that he made his stage debut on his third birthday, tap
dancing on July 26, 1941, and that his first appearance on record was also
as a tap dancer for pianist Poppa John Gordy on the Bullet label's "Way
Down South", circa 1950 (when he was around twelve years of age), it is a
tragedy that this magical album is but Bobby Hebb's first.
With the assassination of John F. Kennedy on November 22, 1963 came a
double tragedy for Bobby. His brother Hal, also a recording artist, was a
victim of a fatal mugging the day after Kennedy's passing. Immersing
himself in Gerald Wilson's jazz masterpiece "You Better Believe It" in the
days following those tragic events no doubt inspired Bobby to compose his
masterpiece. The song landed on the Country, Rhythm & Blues and Pop
charts. Recorded early on by Brother Jack McDuff and David Newman, jazz
greats Stan Kenton, Herbie Mann, Ella Fitzgerald, Pat Martino and many
others have made it a standard in that genre. Having hit for Cher as well
as Georgey Fame, the high point in regard to covers so far would have to
be Duke Ellington and Frank Sinatra's beautiful rendition.
Yambu did a disco version, as did Bobby Hebb when Joe Renzetti produced
and arranged a dance rendition of "Sunny" for Laurie Records. Boney M and
The Boogie Pimps have also taken the composition back into the public
consciousness.
Originally "Sunny" was test marketed in Japan. A little known fact is
that it first hit for Mieko Hirota – the "Connie Francis" of Japan.
"Sunny" hit for "Miko" (her nickname) before it became an international
smash for its author, Bobby having sent sheet music and a recording to
Japan to see how the song would fare there. Hebb only heard that version
in 2004 when magazine editor Takashi Okutaki sent a copy to America. Dave
Pike also released it before Bobby's version became the most famous
rendition. Pike's jazz instrumental from 1965 is found on his Atlantic lp
"Jazz For The Jet Set".
Few compositions can claim to have covers by such a diverse crew as Franki
Valli, Star Trek stars William Shatner and Leonard Nimoy, film great
Robert Mitchum, the stunning interpretation by Dusty Springfield, Marvin
Gaye's amazing take on the tune, Shirley Bassey, Jose Feliciano, Johnny
Mathis, the brilliant blues group The Electric Flag, even James Brown put
his voice to the majestic melody. It appears in many a film score, is a
karaoke favorite (with tons of instrumental versions appearing all over
eBay), and in a weird twist of fate, becomes the name of the main
character in the film "Jackpot", where a fellow aspires to be a Karaoke
superstar, with Hebb's "Sunny" as part of the film soundtrack!
The original Jerry Ross production and Joe Renzetti arrangement features
Melba Moore, Nicholas Ashford and Valerie Simpson on vocals – three names
that blend their talents superbly behind Bobby Hebb's perfect phrasing.
So here it is for America again, at last, the first of only two albums
released by Bobby Hebb (who has recorded at least a dozen albums, many of
which are being prepared for release only now). Keep in mind that Hebb
and comedia Sandy Baron co-wrote the standard "A Natural Man" which won a
Grammy for Lou Rawls (and leads off Lou's 2001 Universal compilation,
"Natural Man/Classic Lou).
"Sunny" hit in many territories all around the world, and collecting the
picture sleeves of this magnificent song is an experience in itself as
they vary from Germany to Japan. Bobby Hebb has recorded many albums, but
only "Sunny" and 1970s "Love Games" saw release before 2004. Lost
recordings are being digitized and the world will hear more Bobby Hebb
than ever before. What better way to start this chain reaction than by
going back to the album that brought Bobby his initial fame, the music
that Beatles fans got to hear as Hebb toured with the Fab Four in 1966.
HipO Select does the world a great service by making this treasure
available again to all. We are hoping to issue "SUNNY DELUXE" on Hip-0
with lots of bonus tracks, and maybe even the beautiful Japanese album
cover which features Bobby Hebb in a tuxedo in front of off-pastel colors.
A copy of that vinyl cover is re-printed in the Vivid CD release of SUNNY
available in Japan.